Finance, Innovation and Social Cohesion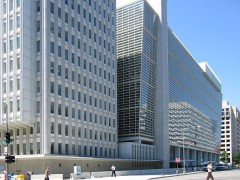 This article was originally drafted by Noviscape for the newsletter "Trendnovation Southeast" as part of the Rockefeller Foundation's Searchlight Process. For more Searchlight content on futurechallenges.org, please click here.
World Bank building in Washington, D.C. (By Shiny Things (Flickr) [CC-BY-2.0 (http://creativecommons.org/licenses/by/2.0)], via Wikimedia Commons)
In the aftermath of the 1997 financial crisis, under the Washington Consensus, many counties in Southeast Asia were forcibly receiving aid and loans under the policy framework from the World Bank (WB) and the International Monetary Fund (IMF). This came together with a liberalization of the financial sector and foreign control over public finance. There had been a significant institutional amount of reform in banking and public sectors. For the past two decades, the regional economy has rebounded with a strength and immunity to adjust to global market uncertainty, which can be viewed as a positive improvement from various economic and human development indicators. Instead of a new round of speculation, a shift in the social paradigm, on-going demographic change, and the recent series of natural disasters will drift the regional financial setting to subscribe to "social cohesive finance" as an alternative investment ideology.
Modern Bureaucracy with Compassionate Essence
The decade of the 2000s was the golden decade for administrative reform in Southeast Asia in creating a cohesive and livable society. There have been various attempts to restructure the administrative function and leverage bureaucratic capacity to undertake wealth creation and welfare distribution. In 2004, Thailand established the Ministry of Social Development and Human Security (MSDHS) with an ambition to transform the country into a quality society, while the renowned social engineering spearheaded by Singapore was reformed to be the Ministry of Community Development, Youth and Sports (MCYS). Singapore has a grand desire to build "the heartware" to achieve "a cohesive and resilient" society. Later in 2006, Malaysia officially established the Ministry of Women, Family and Community Development (MWFCD) with special focus on women, social welfare and sustaining the social institution, similar to the forerunner in Cambodia, the Ministry of Women's Affairs (MOWA), which was established in 1999.
Changing Institutional Mindset for Social Cohesion
Some progressive bureaucrats and bankers are already shifting their mindset to accommodate this systematic change. "A forest bond", proposed earlier this year by the Thailand Development Research Institute (TDRI) and some bankers to finance an environmental conservation project by issuing government bonds, can be seen as one form of financial innovation acting like a platform to shift the mindset among the public, banking, and investment sectors from "doing a charity campaign" into "doing a serious social business". This new financial instrument can be a showcase project. In the business sphere, since 1999 there has been a new language to express the performance of these corporations, institutions and microfinance firms. Innovation in performance reporting includes introduction of TBL-Triple Bottom Line, DBL-Double Bottom Line and 3P formulation. TBL and DBL requires that corporations report not just on the economic or financial value added, but also on the other two aspects of sustainability: the environmental and social value they add or destroy. This change in the corporate reporting culture reflects the societal expectation on business social responsibility.
In contrast, an increasing emphasis on the social venture budget would lead to a clash between the new and the old school of social development – the progressive and the conservative. The country enjoys a high rate of public services surplus (e.g. in basic education and healthcare). Also, new investment in poverty reduction (income distribution), social inclusion and inequality (public housing, new income tax reduction) have been increasing over time. As a percentage, some small newly established ministries with a social mission have gained more than one hundred percent increase in their annual budgets, especially the MSDHS, Ministry of Tourism and Sport (MoTS), and Ministry of Culture (MoC). A big chunk of this budget has been allocated to new public building, social monitoring, and governmental campaigns.
TDRI Building
Implications
We may define "social-cohesive finance" as an investment that generates security in basic needs; brings in social and economic orders through a network of relationships and participation for social inclusion and equality through financial and inclusive innovations.
Financial innovation
Formal institutions (the government and banks): Most of the leading nations in Southeast Asia have already been pouring in money to upgrade their physical infrastructure in order to boost-up economic growth for better livelihoods and environmental conservation through the development of new financial instruments, tax schemes, financial products, insurance packages and non-financial incentives to secure economic conditions for specific groups of people in employment (the handicapped and aged laborers), individual income generation and health prevention, and emergency housing and sheltering.
Informal Institutions (social groups and the community): This includes a tailor-made social venture like microfinance for grey-trepreneurial support, network saving promotion, and investment in "active social relationship activities" in order to nurture a grassroots' learning society and knowledge sharing (particularly on mutual support, trust, and information sharing), and disaster protection infrastructure.
Inclusive innovation
In this sense, inclusive innovation is a form of long term relationship among the financial sector and other stakeholders like the government (particularly, the regulator) that embrace positive social, environmental, and financial return business initiatives, which should make the country more resilient to future uncertainties. There should be created a "trustnovation" – an innovation that bring trust and retention between the community and other stakeholders (the government and the bank), employers and employees.