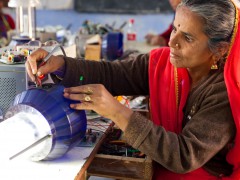 This article was originally drafted by the Strategic Foresight Group for the newsletter "Asian Insider" as part of the Rockefeller Foundation's Searchlight Process. For more Searchlight content on futurechallenges.org, please click here.
Increasing interest in protecting the environment and combating climate change combined with the challenge to provide employment to a burgeoning working age population has resulted in the creation of green jobs. In India, the demand for environment-friendly practices and the growth in renewable energy sector, waste management and clean transportation among others has led to a wide scope for green jobs. Several initiatives of the government, private sector and NGOs are providing a push for green jobs.
Woman training to be a solar engineer. (Photo by UN Women Gallery from flickr.com CC BY-NC-ND 2.0)
Estimates suggest that India needs approximately 55 million new jobs by 2015 to maintain a relatively low unemployment rate in the country. Thus, the rise in green jobs could aid in keeping unemployment in check as well as provide livelihood opportunities to a vast segment of the population.
Unlike the IT sector boom in the country which saw a rapid growth in white collar jobs, a steadily growing green economy has the potential to create medium and low-skilled jobs in sectors like waste management and recycling, mechanics in clean technology industries, and workers in the construction and maintenance of green building projects. Thus, by catering to the bottom of the pyramid population, green jobs could also help to reduce poverty in the long-term.
Solar panels being used in a remote Indian village. (Photo by Barefoot Photographers of Tilonia from flickr.com CC BY-NC-ND 2.0)
Drivers of Green Jobs in India
Green Policy: In 2006, the government of India came out with a new environment policy called the National Environment Policy (NEP). The main objectives of this policy are conserving critical environment resources, livelihood security for the poor, integration of environmental concerns in economic and social development and maintaining efficiency in environment resource use.
Green Education and Training: In 2010, the Ministry of New and Renewable Energy (MNRE) started working on a plan to launch several short-term diplomas and technical training courses in the renewable and clean energy sector to prepare a technically skilled workforce for the coming years. In addition, academic and research institutes have started courses and programs for teaching green skills all across the country.
Green Sectors: India's low-carbon technology market is estimated to reach USD 135 billion by 2020, making the country one of the most lucrative destinations for investment. Growth in the renewable energy sector has been significant over the past few years and with abundant renewable resources available in India, the growth is expected to continue in the future.
Future
It is estimated that the demand for green professionals and workers could grow by 55-60% in the coming years. Creating skilled manpower for green jobs will thus be the main priority of the government and private sector in the future. The government will need new policy measures on wage rate, working conditions, employee benefits etc. to foster green job growth and to create enabling environment for green workers. Also, India will require a separate department to implement and execute polices related to green jobs as well as cater to green professionals. In addition, emerging green occupations call for the need of new training programs and upgrading the skills of workers in response to adoption of new technologies. To increase the accessibility of training and skill development, foundations and NGOs can introduce programs for women, marginalized groups and rural communities in remote villages of the country.