India: Affordable Assistive Aids for the Disabled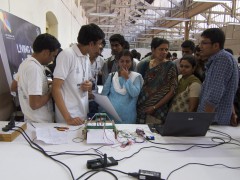 This article was originally drafted by the Strategic Foresight Group for the newsletter "Asian Horizons" as part of the Rockefeller Foundation's Searchlight Process. For more Searchlight content on futurechallenges.org, please click here.
A few attempts have been made in recent years to produce more affordable assistive aids to disabled Indians. If this trend continues over the next few years, not only would more poor disabled persons have access to vital assistive aids, they may also become more employable as a result.
In recent years, there have been some efforts by the private sector as well as government-affiliated research bodies, universities and NGOs to provide low-cost assistive aids that have been developed locally. The Centre for Development of Advanced Computing (C-DAC), the R&D wing of the Department of Electronics and Information Technology under the Ministry of Communication and Information Technology, is one of the bodies involved in creating low-cost tech to assist disabled people. Apart from a cheap hearing aid priced at Rs. 2000-3000 (USD 37- 55) discussed in Asian Insider's July 2012 article, 'Frugal Innovation in India', C-DAC has also developed an application 'Shruthi' that can be used by medical professionals to tweak hearing aids to suit each person specifically. This will be useful to those people who receive government sponsored hearing aids (between 300,000 and 400,000 are distributed for free annually to the poor) but are unable to really reap the benefits as they are not customized. Another C-DAC application is called Braille Mozhy and is used by the visually impaired to convert Braille to text. Another government associated research body is Media Lab Asia which has developed 'Safa' which can help blind people operate computers using speech. The product is available for free and can be downloaded directly from the National Association for the Blind's website.Estimates vary regarding the exact number of disabled people in India, with various sources suggesting a number between 60-80 million people. Only a reported 1% of this section of the population has access to assistive technology. The biggest reason for this has been prohibitively priced technology, often due to the fact that they have been imported from other countries.
A patient with cataracts receives treatment. (By HelpAge from flickr.com, CC BY-NC-ND 2.0)
Hindustan Software Technologies, a non-profit software firm, has developed various technologies to enable disabled persons to use information and communication technology (ICT). One is Netra Rathh, which allows persons with motor skill disabilities to control a wheelchair using eye movements. Another is the Embedded Voice Generation System (EVGS) which allows people with sight and speech disabilities to interact and communicate using EVGS devices. The Hyderabad-based Sri Vishnu Educational Society has created the Assistive Technology Labs, dedicated to coming up with affordable, locally made assistive aids for disabled people. Products include Smart Stick of Visually Challenged, Smart Belt for Blind, and a Talking Calculator for the Blind.
Recent years have witnessed not only a surge of local innovations and developments in the field of affordable assistive aids, but also a number of collaborations and new platforms to discuss the issues at hand. In 2012, BarrierBreak Technologies organized Techshare 2012, with support from the National Centre for Promotion of Employment of Disabled People (NCPEDP), Royal National Institute of Blind People (UK) and sponsored by Microsoft, where issues of affordable, locally made assistive aids were discussed. In July 2010, the Spastic Society of Karnataka in association with the Karnataka state government organized a conference with the aim of creating a forum for discussion on assistive technology in India. The biggest likely benefit to disabled persons is likely to be increased employability, especially due to technology that enables them to use computers and mobile devices with greater ease. Greater access to assistive aids will reduce dependence on an external support structure for disabled people, creating greater chances of employment. In the future, a larger section of the disabled may be able to join the main workforce, instead of being limited to the periphery.