Informing the People: Oil Contracts Demystified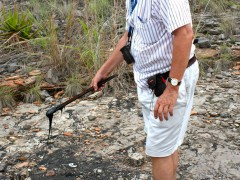 This article was originally drafted by Zara Rahman, with additional comments by Tanja Hichert and the South Africa Node of the Millennium Project, excerpting from from a Think Africa Press article as part of the Rockefeller Foundation's Searchlight Process. For more Searchlight content on futurechallenges.org, please click here.
Think of the oil industry and, along with spills and environmental problems, many people think of secrecy and corruption. But transparency is increasing, albeit from a low base and poor historical record in the area. The tide is gradually turning with more and more data being put online, and there are many initiatives doing great work on making machine-readable data accessible and understandable. There is a trend emerging in governments publishing, or putting online, the contracts they sign with international oil companies. This is undoubtedly a great success for the transparency movement globally. There are now seven jurisdictions around the world that publish their oil contracts, with more to come, and transparency of oil contracts is being written into constitutions and emerging as a best practice globally. But until now, oil contracts have remained extremely difficult to unpack.
Tools to help people understand these contracts have, until now, been overwhelmingly aimed at industry employees or those with elite levels of education. To address this, OpenOil convened a group of ten world-renowned experts at the beginning of November to come together for a week and collaboratively write a book on how to read and understand oil contracts, in what is known as a "book sprint".
No preparation was done beforehand; no planning chapter titles, or organizing who was going to write what. All work began at 9am on a Monday, and involved having a lot of faith in the facilitator of the method, who has now used the book sprint method to produce over fifty books. The result was "Oil Contracts – How to Read and Understand them", released under the Creative Commons license and thus free for all to download.
The guidebook runs through all the salient issues addressed in contracts, using actual excerpts from contracts around the world to compare ways of dealing with certain issues. Eight different public domain contracts are referred to and quoted extensively throughout. Half of this "family" of contracts are actual signed contracts, and half are "model" contracts, which have been released by their respective governments. Contract excerpts, though a little intimidating to begin with, are explained in detail to allow the reader to get a handle on the language used in the contracts.
OpenOil is now looking for partners to work with on the evolution of the book, and there has already been strong interest in translating the book into various languages to increase its accessibility across the world. A training curriculum will be developed out of the book, and training courses – a low cost equivalent to the expensive courses mentioned above – will be organized for civil society, parliamentarians, media, and interested members of the public.
In a related matter, the Angolan office of the Open Society Initiative for Southern Africa (OSISA), organized a conference in 27 October focusing on Angola's petroleum industry and in particular on transparency and the impact of oil revenues on people's socio-economic rights.
Nearly 70 people attended the conference, including many students from both public and private universities in Cabinda, government officials, the head of the oil workers union, community members and journalists from Cabinda and Luanda.
The event provided OSISA with the opportunity to present two major research reports:"Angola's Oil Industry Operations" and "Oil Revenues in Angola: Much more information but not enough transparency," which was produced in partnership with Global Witness. "Angola's Oil Industry Operations" provides a detailed look at the structure of the industry and highlights its key weaknesses – particularly lack of transparency, rampant corruption and failure to use oil revenues for the benefit of all. The report concludes with a list of recommendations to promote more transparency, knowledge, public awareness and investigative reporting as well as to establish mechanisms to hold both Sonangol and multinational companies to account.
The second report, "Oil Revenues in Angola: Much more information but not enough transparency," looks at officially available data and finds that figures for oil production, exports, domestic sales, prices and above all, revenues, are not reliable. The figures from different agencies show numerous gaps, discrepancies and anomalies which are hard to explain, based on the available information. Further, none of the figures appear to be independently verified (with the partial exception of Sonangol's accounts, which are audited by an international accounting firm).
Source:
Think Africa Press, http://thinkafricapress.com/legal/openoil-informing-nation-oil-contracts-demystified
Tags: Angola, Millennium Project, Oil, South Africa, Transparency