Labour brokers: Study finds positive and important role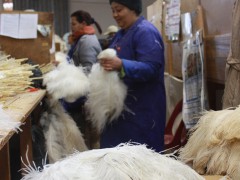 This article was originally drafted by Stef Terblanche and the South Africa Node of the Millennium Project, excerpting from http://www.leadershiponline.co.za/articles/labour-brokers as part of the Rockefeller Foundation's Searchlight Process. For more Searchlight content on futurechallenges.org, please click here.
As the debate on the role of labour brokers [in South Africa] rages on, a new study by a respected independent policy research and advocacy organisation has found that temporary employment services play a big and positive role in helping unskilled and inexperienced young people find jobs. The study was conducted by the Centre for Development and Enterprise (CDE) and is entitled "Routes into formal employment – Public and private assistance to young job seekers".
Workers at an ostrich feather factory in Oudtshoorn. (Photo by South African Tourism from flickr.com CC BY 2.0)
Those under the age of 25 –1.4 million young people– account for 30% of all unemployed. If those aged 25-29 are added, the figure rises to 2.5 million unemployed young South Africans. The CDE commissioned the research to identify the most common "routes to employment" and provide some analysis of how effectively these routes work. Included in the Routes study were the informal sector, the Expanded Public Works Programme (EPWP), the National Youth Development Agency's (NYDA) Jobs and Opportunity Seekers (JOBS) programme run through the learnerships offered by Sector Education and Training Authorities (Setas), and temporary employment services (TES) firms, commonly known as labour brokers. The Routes study found that:
While the EPWP created more than a million "work opportunities" between 2004 and 2009, providing short-term, last-resort employment to relatively large numbers of people, it has done very little to increase the employability of beneficiaries;
That the Setas, having completed 10,000 learnerships in their first four years, provided some people with valuable training and access to job opportunities, largely in the financial sector. But the Setas were of greatest benefit to people who were most likely to find employment anyhow, even without assistance from the Setas;
Young people employed in the informal sector mostly found themselves trapped there, unable to make the transition into the formal employment sector; and
Despite a lack of data, the study found that the JOBS programme run by the NYDA "is helping some young people into jobs".
The majority of employed people in all cases found their work without the help of employment agencies. Yet the study concludes that, although relatively small in overall terms, the number of those who found work through an agency was "still significant in terms of the numbers of people nationally who use this route to employment". In 2009, for example, the Confederation of Associations in the Private Employment Sector claimed that TES firms placed over 500,000 job seekers in employment every year. But "more recent estimates suggest the number of placements per year is closer to one million," the report states.
Construction workers in South Africa. (Photo by World Bank Photo Collection from flickr.com, CC BY-NC-ND 2.0)
And while people placed by TES firms such as Adcorp worked for periods shorter than is typical of the economy as a whole, there was no evidence that they are paid lower wages, as claimed by Cosatu and others. TES-placed workers earned median wages of R2 934 (US$350), a figure that is close to the median of R3,000 in the Quarterly Labour Force Survey. The research also found that some employers – especially large, capital intensive firms which employ some low and important skilled workers – rely more heavily on TES firms than others, TES services appear to help companies grow and compete globally and much of the reliance on TES firms reflects seasonality in demand for labour and broader international trends towards more flexible (and temporary) forms of work. The research found that labour brokers were most useful to young, inexperienced workers and those whose link to the labour market was particularly tenuous. These services "may help bring excluded households and workers into the economy" making the economy more inclusive. This, they say, must be factored into the policy debate.