Locally Manufactured Wind Turbines Provide Affordable Electricity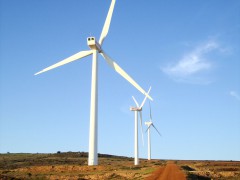 This article was originally drafted by Oluchi Agbanyim and the Centre for Democracy and Development for the newsletter "West Africa Insight" as part of the Rockefeller Foundation's Searchlight Process. For more Searchlight content on futurechallenges.org, please click here.
What protracts poverty in most communities in the Sahel is lack of energy, and one of its grey areas being wind energy. The continent has potential to generate sufficient energy resources to meet its need. As governments continue to fall short in providing these basic amenities, more and more communities, NGOs and even individuals are resorting to self help. One of such is the development of a wind turbine that generates 24 kilowatts of electricity at 10 metres per second wind speed in Enugu State, Nigeria, after two years of research by Hybrid Micro Machines Products Ltd.
In The Gambia's Batokunku village, Peter Weissferdt, a 70-year-old electrical engineer from Kiel in Germany is geared towards putting his wind energy experience from Germany into use in transforming his adopted country. This was demonstrated by importing a refurbished turbine from Europe in 2009. The equipment became Gambia's first wind-power plant and now two more are being connected to the electricity grid. The project kicked off after years of negotiations with the state provider Nawec which has been unable to meet the energy and water demand by losing around 40 percent of energy fed within the grid due to primarily cable faults and theft. That situation left only one in two residents in urban areas and one in four residents in the rural regions connected to the grid.One Mr Sabastine Omeh solely financed the project. Inspired to solve the problems of rural electricity, street lighting, rural boreholes and irrigation, among others, Omeh had perfected the design of 150kw and 500kw models. The state is blessed with surplus coal reserve and so the designers included a coal biomass turbine in the plan. His efforts have not gone unnoticed by the state government as the state Commissioner for Science and Technology, Mrs Patricia Arum, on a visit to the site promised government collaboration to enable the company diversify its energy sources.
Spurred by Weissferdt's intervention, the community has laid its own network of electricity cables and water pipes as part of the wind-power installation project and 150 KW wind turbines networks, all self-run by the local council and a non-governmental organization Batokunku Rural Electrification. In addition, a five-person committee oversees the turbine and the village network, and takes all operative decisions. The community is excited that the project has given them the privilege of having electricity in their homes, use fridges, open a cinema; manufacturers buy sewing machines and others run small electric oil-presses. According to village committee member Touray, "It's a completely different life from before." Now their ambition is to have a school. As for how that is to be achieved he said, "The necessary money will be raised by the wind-energy plant: for a five-year term, the state energy company has undertaken to pay 80 percent of the consumer tariff per kilowatt-hour generated: currently, that converts to about 18 eurocents.''
Workers maintain the thermal power station at Takoradi, Ghana. (By World Bank Photo Collection from flickr.com, CC BY-NC-ND 2.0)
This experience is similar to the Power to the Poor project in Ghana, which seeks to create capacity to solve local problems and promote local economic development. Hugh Piggot, a consultant from Scoraig Wind Electric, trained a group of artisans in design, construction, installation and operation of a 500-watt wind turbine. Interestingly, with the exception of high-strength magnets, all the materials were locally accessible.
The small locally manufactured wind turbines provides affordable and reliable source of electricity for off-grid communities with wind resources high enough to support wind generated electricity. Economically, the advantages are vast: it not only provides additional revenue but also training and maintenance opportunities. Out of the total of ten planned turbines, nine had been installed in six off-grid communities with cites including a school, church, battery charging center and a tailor's shop.
Between the 7th and 11th of February 2011 in Senegal, at an innovative conference for organizations working with Piggott-style wind turbines discussions were on experiences and challenges faced by the various organizations and their projects. They also sought to form a global association to further their efforts. Presentation of the different organizations in attendance centred on groundbreaking experiences of Scoraig Wind to new ventures such as I Love Windpower Mali and Tanzania, commercial experiences of SolarMad, the activism of Tripalium. Part of the events was a visit to the community of Mbay Mbay, a rural community focused on agriculture, relying on diesel water pumps to irrigate the fields. The participants saw a wind turbine systems installed by EolSenegal and another Senegalese NGO.