Mobile Apps Development Opens New Vistas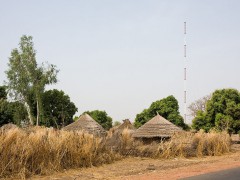 This article was originally drafted by the Centre for Democracy and Development for the newsletter "West Africa Insight" as part of the Rockefeller Foundation's Searchlight Process. For more Searchlight content on futurechallenges.org, please click here.
The advancement of technology globally has led to large numbers of persons using mobile phones purposes other than just making and receiving calls. The World Economic Forum says about 74% of populace living in poverty all through the globe has access to mobile phones. Mobile phone users are on the increase in West Africa. Ghana has 19 million lively mobile phone users. Nigeria has surpassed South Africa to become the continent's leading mobile market by above 90 million subscribers. According to the Mobile World analyst, Niger Republic has approximately 14.4 million mobile phone users, which signifies a resident's infiltration height of 23%. Senegal is also a growing mobile market in the region, with abundance of opportunity for expansion. This is a fertile grown for provision of innovative services via this ubiquitous tool, a realization that is attracting a blossoming craft of building mobile applications (or 'apps').
A Standard Bank Group report has it that mobile subscriptions in Africa by 2015 will hit 800 million consumers. This shows prospect for big businesses and mobile apps developers. Mobile applications have made mobile banking possible, with the starting of the Central Bank of Nigeria's (CBN) new cashless economy scheme, with which Nigeria announces its readiness take on the continent's rising mobile payments market. Going by industry forecasters, 20 million Nigerians are expected to be attracted into the formal banking scheme using mobile money over the next three years. At present, some commercial banks in the country have introduced mobile banking apps that allow transfers of funds across various bank platforms. United Bank of Africa (UBA) deploys the uMobile application for its mobile banking, whereas Intercontinental Bank of Nigeria installs the iMobile app.
Rural village with mobile phone antenna in The Gambia. Almost every adult gambian has a mobile phone and uses it quite often. By Ikiwaner (Own work (eigenes Bild)) [GFDL (www.gnu.org/copyleft/fdl.html) or CC-BY-SA-3.0 (www.creativecommons.org/licenses/by-sa/3.0/)], via Wikimedia Commons
The AITEC Banking and Mobile Money conference will next month take Accra to the global top professionals on mobile banking. In November 2011, the United Nations Conference on Trade and Development (UNCTAD) had revealed that 40 million mobile money users are presently found in Africa. Research firm Ovum anticipates this number to increase to 1.2 billion by 2015. Kenya is presently the leading player in Africa's mobile payment markets with over 20 million users. According to new data from World Wide Worx, 37 percent of South Africa's cell phone users also use mobile banking services.
Besides apps for mobile banking, apps facilitate increased penetration of pay TV subscription. DSTV Mobile, a service offered by Multichoice, permits subscribers of mobile networks in South Africa, Nigeria and Ghana to view TV broadcast on mobile phones.
Mobile Reporting – African journalist using a mobile phone as a reporting tool. The ability to capture text, photo and video . The content receives some editing on the phone before being uploaded to the Internet via GPRS. By Zia505 (Own work) [CC-BY-3.0 (www.creativecommons.org/licenses/by/3.0)], via Wikimedia Commons
Promoters of mobile apps have woken to prop up its potentials. Mobile Web Ghana, a group of Ghanaian mobile entrepreneurs seeking entrepreneurs, engage in mobile phone technology to create applications that render valuable service to home societies and generate successful trades. Training to this effect begins on the 15th March 2012 and will hold for three weeks. Technology and business experts across the globe will be assembled. In a related development Mobile Web Ghana rewards two local mobile applications developers. Presently under creation, AppBridge which emerged as brainchild of the Young Global Leaders a World Economic Forum (WEF) community is an online stand to promote gifted software developers to connect with non-governmental organizations (NGOs) and community organizations to create applications that will deal with poverty. Mobile apps prospects in Nigeria is in its infancy whereas mobile application and web development have many prospects and less is being done in the oil exporting country. MobilityNigeria pays ten thousand naira (about US$65) for any developer willing to share their mobile apps with the public for free, if that app is chosen as most qualified by MobilityNigeria's team. The company's founders say they do this to inspire improvement in the Nigerian mobile app development, to promote developers who invest in stirring out immense mobile application for free for the advantage of many. Also, recently Samsung West Africa (SEWA) launched Samsung Developers competition, Nigeria's first ever mobile applications improvement challenge and this was to aid Nigeria take its place as a technology monster able to create mobile applications that are significant and functional in the Nigerian context. Mobile apps seem to be the obvious business to invest in at the moment.
Foreign investors are likely to seize this opportunity to invest in mobile application development and sales in the region.