Mobile Phones Advancing Women's Healthcare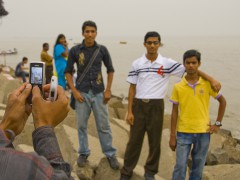 This article was originally drafted by the Strategic Foresight Group for the newsletter "Asian Horizons" as part of the Rockefeller Foundation's Searchlight Process. For more Searchlight content on futurechallenges.org, please click here.
In recent years, mobile phones have been increasingly used to advance development efforts in women's healthcare in Bangladesh. Given the growing mobile phone penetration in the country, such initiatives may aid in improving health indicators of women, especially among poor communities, in the long-term.
Mobile phones are increasingly popular in Bangladesh. (By Amio James Ascension from Flickr.com CC BY-NC-ND 2.0)
In 2009, Bangladesh Rural Advancement Committee (BRAC) partnered with ClickDiagnostics, an international technology-based social enterprise, to integrate a mobile-phone based healthcare system for their project Manoshi, which works towards improving maternal and newborn healthcare in urban slums. Initially, local women community health workers (CHWs) maintained health records of poor slum women manually and waited until the end of each month to collate data and submit it to a centralized healthcare center. Post the adoption of the mobile-phone based system; CHWs are being trained to use mobile phones with built-in medical algorithms. Patient information is now digitally sent to a centralized medical information system (MIS) in real-time. The algorithm assesses the level of risk faced by pregnant women, enabling CHWs to prioritize their visits and tasks. Health specialists can also access the real-time data from CHWs to monitor risky patients and plan timely interventions. BRAC Manoshi and Click Diagnostics are currently looking to extend the mobile-phone based health program to urban slums in 6 metropolitan cities.
Similarly, local NGOs, Bangladesh Friendship Education Society and Amader Gram (Our Village), have also partnered with Click Diagnostics to use mobile-phone based software to collect health data from 45,000 households to screen breast cancer patients belonging to urban and rural underprivileged communities and monitor these patients electronically.  A new joint initiative by Amader Gram, mPower Health (a Bangladeshi ICT social enterprise) and International Breast Cancer Research (Canada) recently won USD 1.5 million from Canada's 'Rising Star in Global Health Programme'. The program is designed to address challenges faced by rural women in accessing breast cancer treatment, by utilizing mobile-phone applications.
In 2011, Grameen Phone and Development Research Network (a Bangladeshi ICT social enterprise) joined the Mobile Alliance for Maternal Action (MaMa), an innovative global health information alliance. Under the leadership of Ministry of Health and Family Welfare (MoHFW) and Access to Information (A2I) Programme at the Prime Minister's Office, MaMa will deliver life-saving health information to Bangladeshi women through a combination of audio and text messages. Information disseminated will include self-care tips for pregnancy, benefits of family planning, breast feeding practices, advice on neonatal care as well as connecting pregnant women and new mothers with local health services. The messages will be customized and linked to a woman's delivery date. The Directorate General of Health Services (DGHS) also launched an SMS-based pregnancy advice program in March 2010 on a pilot basis.
Going ahead, the trend of using mobile phones to extend healthcare services to women is likely to rise. This could aid improvement of health indicators for vulnerable women, particularly in areas such as maternal mortality. At present, the focus of most m-health initiatives is on pregnant women and new mothers. Depending on the success of initial pilot projects, mobile-phone based programs could be expanded to cover other women-specific health concerns and also be linked to the health of young children, for instance to monitor vaccination programs. There is potential for foundations to partner with technology-based social enterprises and NGOs working in the healthcare sector, by funding research pilot programs, organizing training programs and aiding in implementation and dissemination of new mobile-phone based healthcare software.