New data journalism tool uses open data to hold local officials accountable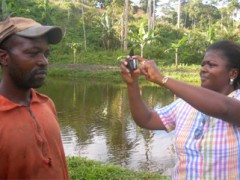 This article was originally drafted by the SA Node of the Millennium Project for the newsletter "Southern Africa Horizon Scan" as part of the Rockefeller Foundation's Searchlight Process. For more Searchlight content on futurechallenges.org, please click here.
Those in power can be held accountable in more open, just and democratic societies where freedom of expression and an independent media are free to operate. In a region such as Southern Africa the quality of journalism and reporting is also important. The Open Society Initiative of Southern Africa (OSISA) supports initiatives that promote advocacy, networking and capacity-building in the following media-related areas: increasing access to community radio and print media; providing institutional support to media and advocacy organizations; and promoting experiments and supporting emergency responses.
Mobile Reporting (By Zia505 (Own work) [CC-BY-3.0 (http://creativecommons.org/licenses/by/3.0)], via Wikimedia Commons)
An innovative new media initiative that supports the above-mentioned principles, but is independent of OSISA, is a data-journalism tool created by Media 24 Investigations called 'What's your Mayor worth' where ordinary citizens can now find out what their local government officials are being paid and do something about it if she or he isn't worthy every cent they're getting.
Service delivery protests, (due to the lack of basic services such as water, housing, sanitation, roads, etc.) are a regular occurrence in the Western Cape's Overberg District yet the district's municipal manager gets a total package of R1.106,530 (±$US142,000) for doing their 'day job', while the executive mayor takes home a package of R572,108 (±$US73,000). The district's director of technical and planning gets R982,820 (±US$0126,000), while the chief financial officer earns R932,646 (±$US120,000). The total cost for wage bill for the Overberg's councillors, directors and executive team comes to R6.422,000 (±$US827,000) per annum.
"I am hoping the tool will spur on a bit more community activism once people have a real sense of the rands and cents that tax or ratepayers are putting into the pockets of the people who run these towns and cities," says Andrew Trench, editor of Media24 Investigations, who built the tool. Trench says once people know what officials in their municipalities earn, measuring up the reality of that performance against the numbers becomes a powerful foil to hold councillors accountable to.
"I hope that after using the tool, people will start tipping us off on stuff, particularly people in smaller towns and other bureaucrats who will be interested to find out what their bosses are earning. People might say: 'That person that is earning R1-million (and has been off for six months.' I am hoping it will generate a lot of feedback from councils in the 'Lallies' [small towns] that we've never heard of."
Trench says South Africa has a fairly open data policy, but ferreting out the right data and knowing how to make use of, or interpret it, is the real challenge. "For years South Africa hasn't had an open data policy, but there seems to be a little trickle down, particularly from the Treasury, which has been very active in terms of organising data. With the evolution of the National Planning Commission and the ministry that monitors performance, you start generating data and measurables, which is what we are starting to see," he says.
Source: http://farm6.static.flickr.com/5050/5241176871_d3f7988595.jpg
The data used for "What's Your Mayor Worth" was hidden away on the National Treasury's website in hundreds of excel spread sheets, which is a format that makes it near impossible for local citizens to access or make any real sense of, without high level expertise.
"What I was able to do was to get the stuff out of the spread sheets and into a decent data-base, just for us (the Media 24 Investigations team) to generate queries off and to see if we could write interesting stories using the data," says Trench. The investigative unit was looking at stories about the total cost of senior management teams in municipalities, which could then be cross referenced to data sets of financially delinquent councils. "We discovered that about 25% of the 30 most expensive councils in the country were also on the list of the most delinquent," says Trench. "This raises journalistic questions about what kind of quality people are there in municipalities and the kind of money that they are being paid."
M24i's editor has been interested with data journalism, and fiddling with code, for quite some time now. "One of the reasons I have been working on projects like this is to get an idea of what journalism might evolve into. There has been a lot of buzz around the world about data journalism, but South Africa has lagged behind partly because there has been very little decent data available for a long time to we could dig our teeth into. But this is starting to change rapidly," he says.