Privatizing Public Planning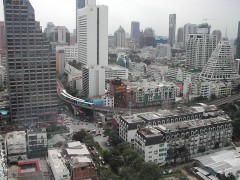 This article was originally drafted by Noviscape for the newsletter "Trendnovation Southeast" as part of the Rockefeller Foundation's Searchlight Process. For more Searchlight content on futurechallenges.org, please click here.
Urban and regional planning is generally perceived as the duty and responsibility of public organizations. In most, if not all, Southeast Asian countries, agencies have been established, first at the national level and later at the local level, to plan and implement urban and regional development. Urban plans aim to direct public infrastructure investment, while controlling and guiding private-sector development through regulations and incentives. Some plans are more sector-specific, such as transport and other infrastructure networks. Others are structural and comprehensive, integrating a wide range of issues from land use and housing to transportation and infrastructure. Although urban planning still largely remains within the government domain, the practice of various planning activities has been increasingly "privatized" in Southeast Asia.
Bangkok Skyline.  2007-Apr-22. From Wikimedia Commons, used under CC-BY-NC
Planning by consultants, driven by decentralization and downsizing
The expansion of the private sector into the realm of urban planning is not limited to large developers but includes an entourage of consulting firms. In Thailand, consulting firms such as Team Group have been commissioned by the Department of Public Works and Town and Country Planning (DPT) to develop Comprehensive Plans for cities across the country. Some firms only conduct field surveys, develop databases, and carry out sector-specific analyses. Others take charge of the whole process of comprehensive planning, including conducting public hearings and consultation.
The development and revision of Bangkok's Comprehensive Plans were conducted by the internal staff of the DPT and the Bangkok Metropolitan Administration (BMA), Bangkok's local government. But the tasks of developing the two most recent plans have been commissioned to consulting firms, one of which is Krungthep Thanakom. The firm is 100% owned by the BMA and was set up in 2004 so that it could manage the city government's projects without having to follow cumbersome bureaucratic procedures. Concerns have been raised about the transparency and accountability of this arrangement, as the firm often receives high-profile projects from the city.
The increasing use of external consultants has been driven by the policies of decentralization and government downsizing since the late 1990s. Governments throughout Southeast Asia have attempted to downsize in an effort to reform large and inefficient bureaucracy. During 2002-2006, the Thai government set the target for reducing the total government workforce by 10%. Since then the DPT has steadily reduced the number of planners for its Bangkok headquarters and assigned new positions to provincial planning offices. Several local governments now have positions for urban planners. As cities and their local governments continue to grow, there is an increasing need for urban plans and planners. This demand is currently being filled by consulting firms. An increasing number of urban planning graduates now work for consulting firms, as there are few jobs in the public sector. However, the extensive use of external consultants for planning may have serious implications for accountability, transparency, and capacity building in each city.
ASEAN integration will expand the professional market
An increasing integration of the Association of Southeast Asian Nations (ASEAN) has important implications for urban planning practices and professions. Currently, due to differences in professional accreditation and certification, urban planners from one country cannot legally work in another country. Regional accreditation of urban planners would expand the market for private consulting firms in this field. Urban planners in Singapore and Malaysia would be able to find work in Indonesia and Thailand, and vice versa. In fact, at one of the meetings at the ASEAN Summit in Bali in November 2011, country representatives of urban planning professionals and educators discussed regional cooperation and harmonization of regulations governing the planning profession.
Drivers/Inhibitors
If government downsizing continues, the role of private consulting firms will increase.
Decentralization will only increase the need for local development plans and planners. If there are not enough urban planning graduates, private consulting firms will continue to be commissioned to develop urban plans.
The integration of ASEAN will expand the role of private consulting firms within the region. But local protectionism and favoritism may substantially delay such integration.