Pro-Poor Payments for Environmental Services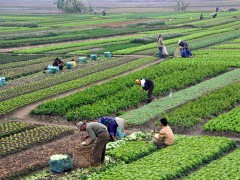 This article was originally drafted by the Strategic Foresight Group for the newsletter "Asian Horizons" as part of the Rockefeller Foundation's Searchlight Process. For more Searchlight content on futurechallenges.org, please click here.
Recently, Vietnam has witnessed a surge in the development of Payments for Environmental Services (PES) programs. Supplementing farmers' livelihoods in this manner will benefit local communities by creating a revenue source while protecting the environment at the same time.
PES schemes are based on the principle that those who benefit from environmental services should pay for them, and that those who contribute to generating these services should be compensated for providing them. A pilot PES policy developed by the Ministry of Agriculture and Rural Development (MARD) in 2008 in accordance with Decision 380 guides the implementation of pilot PES schemes in the provinces of Lam Dong, southern Vietnam, and Son La, northern Vietnam. Lam Dong authorities determined the economic value of ecosystem services, identified buyers and sellers, and established organizational and institutional structures for the distribution of payments.
A large farm growing a variety of foods in Vietnam. (By Dennis Jarvis (Flickr: DGJ_2145) [CC-BY-SA-2.0 (http://creativecommons.org/licenses/by-sa/2.0)], via Wikimedia Commons)
A Fund for the Protection and Development of Forestry has been established in 2009 that puts in place mechanisms for the payment of fees by downstream users of watershed services to finance forestry projects in the upper-catchments. After one year of test payments, results indicate that the PES money is making a substantial contribution to local livelihoods in northern Vietnam.
The majority of revenues (80%) go to local landholders while State entities maintain only a small part of the revenues for administrative purposes. Money collected by the State is used to finance forestry projects in the upper-catchments. Presently, the primary potential payees are the hydropower plants, and the tourism industry and the main potential beneficiaries are farming households. By 2009, a total revenue of VND 77 billion (USD 4 million) had been generated. PES schemes are being distributed to 3,400 poor forest-dwelling households in Lam Dong, who protect approximately 104,000 hectares of forest. When the payments are completed, each household receives USD 500 a year, an approximate 400% increase in income.
PES policy demarcates the land to be used for PES purposes and the land that the farmer can utilize for his own purposes, hence, not completely stripping the farming household of its agriculture or lumbering activities. Capacity-building through a mix of incentives (subsidies), technical assistance on improved and sustainable agricultural practices, and regulation have been used to improve upon the traditional practices adopted by farmers on their lands.
Patrol ship of Vietnam Forest Ranger in Ha Long Bay. (By Phó Nháy (Own work) [Public domain], via Wikimedia Commons)
PES proponents believe that since the policy has been scaled-up to the national level by a decree passed in late 2010, the derived revenues could reach $1 billion. The national PES scheme can maximize the benefits for those who are directly dependent on forests. Particularly promising are PES schemes that incentivize mangrove conservation and encourage sustainable development through payments for carbon sequestration, storm and flood protection. However, schemes involving communally-held land may be difficult to put in place in the absence of a legally-recognized organizational structure that allows contractual arrangements to be implemented. The absence of wide access to markets and non-farm employment opportunities may force farmers to intensify land use to meet the food requirement from the remaining farm area.