Profiles from "Providing Stepping Stones to Opportunities"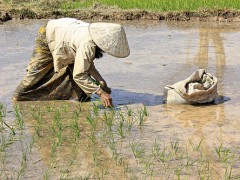 This article was originally drafted by Johannes Loh and the Lee Kuan Yew School of Public Policy for the newsletter "Asian Trends Monitoring Bulletin" as part of the Rockefeller Foundation's Searchlight Process. For more Searchlight content on futurechallenges.org, please click here.
The booming economic development of Laos does not automatically improve access to services—a major issue for the poor. Without a system of social protection, the poor have to rely on relatives and friends in times of economic hardship. Government programmes for skills training or small business development do not exist and the few NGOs operating in Vientiane reach only a small proportion of the people who would benefit from such offers. We spoke with three individuals to hear their stories:
Three jobs, still trapped in poverty
Laborer in a Laotian rice paddy (By Maggalie L'Abbé from flickr.com CC BY-NC 2.0)
In Phonethong Village, located on the outskirts of Vientiane Capital, we met a woman named Kaum—a mother, farmer, labourer, and factory worker. She and her husband own a small plot of land barely enough for subsistence agriculture. In order to feed the family, they moonlight as laborers on other villagers' farms. Kaum also puts in additional shifts at a nearby garment factory. Working at the factory earns her US$50 per two weeks, or US$3.57 a day. That is barely sufficient to feed the family of four, let alone the expenditures for school or investments to enhance their agricultural output.
"I would like to open a small shop to earn more money, but nobody wants to give me a loan," says Kaum. At the current household income, her children can only hope to finish primary school before helping at the farm full time. When asked what she expects her children's future to look like, she simply says: "My children don't have a choice but to become farmers just like my husband and I. […] there are no other jobs for them."
Dreaming big, thanks to microfinance
A noodle vendor in Laos (By Diego Hernandez from flickr.com CC BY-NC-SA 2.0)

Where did you learn how to run a business?
I learned by myself. First, I sold noodles, one bowl for 3,000 kip (US$0.37). But it became difficult as more people started to sell noodles, so that's why I changed to this shop with a wider range of goods on offer. Our shop is in between two noodle shops, so I switched to selling different food, but you can still get a warm meal in front of my shop. I have sold at this location for 30 years now.
Can you describe a typical working day for you?
Every day, I go to the market to buy food to cook and sell. On a typical day, I can earn US$50–60. However, most of my profits are reinvested into the shop. I have to spend on many things: electricity, water, school fees for my children. At the end of the day my profit is about US$12.5; I make just enough money to live here with my family.
Do you take loans to grow your business? What do you use as collateral for the loan?
Yes, I do. The shop and my product range used to be much smaller before I found out about EMI's services for small business owners. I use my motorcycle certificate as the collateral. Before that, I borrowed from money lenders who collect payments daily, but charge very high interest rates. For a US$125 loan, I had to repay US$190. It was not good for my business.
What are your business plans for the future?
I have plans to grow my business. For example, I plan to have more goods to sell, which will allow me to earn more. Maybe I can sell some more traditional candies and cookies; maybe I can expand the shop space. With a little bit more capital, I could sell beer or soft drinks as a wholesaler—that's something I dream about.
Roadside rice trader with unknown future
At the outskirts of the city center, we meet Kood, a rice trader and entrepreneur. She used to sell small goods and make-up in a shop outside her house in central Vientiane, but three years ago, she lost everything when her house burned down in a fire. However, she immediately found a contingency plan.
"I know a lot about rice," she said. "My father, a lifelong rice farmer, taught me everything. So, I thought that the rice business would be something easy to understand and be successful in." Now she rents a roadside stall to sell a wide variety of rice.
Given the large quantities of rice that she has in stock, cash flow regularly becomes an issue. When business is bad, she has to take loans from a local loan shark in order to pay the rent and her daily expenditures. The conditions follow the 5/6 principle: for every US$5 borrowed, you need to repay US$6 after a fixed period (usually 30 to 50 days later). This 20% monthly interest rate can quickly turn into a debt spiral for small roadside merchants like Kood, but she has no other options. Kood is wary of the ongoing development of Vientiane—she fears that rents will go up as the city center expands. For her, that would mean either shrinking profit margins or a decision to relocate her business farther away from the city. Right now, she can't think of a plan B.
Tags: entrepreneurship, Laos, NGOs, Social Services