Public housing projects in Manila: US$1.1 billion for slum relocation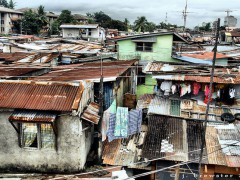 This article was originally drafted by the Lee Kuan Yew School of Public Policy for the newsletter "Asian Trends Monitoring Bulletin" as part of the Rockefeller Foundation's Searchlight Process. For more Searchlight content on futurechallenges.org, please click here.
The Philippines government has made several attempts to alleviate the symptoms of urban poverty. In 2011, President Aquino announced a fund of 50 billion pesos for the relocation of 104,000 informal settlers from "danger areas" around the National Capital Region until 2016.5 These danger areas include waterside areas and other places that are prone to disasters and hazards. The Department of the Interior and Local Government (DILG) and the National Housing Authority (NHA) are in charge of implementing this programme, in coordination with Local Government Units (LGUs).
Flooded Slum in Manila. (Photo by Jörg Dietze from flickr.com CC BY2.0)
The amount of money that has been earmarked for this programme over the next five years (50 billion pesos is equivalent to US$1.1 billion) should be enough to implement massive upgrades in the living conditions of slums dwellers in the entire city. Additionally, DILG is able to call on the help of other government agencies to provide other basic amenities such as health centres and schools. In short, the government has extensive financial resources, and one imagines that it would be strait forward to implement the relocation programme.
However, in our recent meeting with officials from DILG, they admitted that things are not quite going according to plan.
The first obstacle to this policy is the unwillingness of the LGUs to cooperate with DILG and NHA. Land acquisition for the new housing estates should be simple, as long as the LGUs are able to provide accurate information on available land within each municipality. However, for unknown reasons, the LGUs are unwilling to share the information. Our contact suspected that the LGUs' motive is to preserve the high value land for developers of commercial property rather than "giving it away" for low-cost public housing. This makes it much more difficult for DILG and NHA to situate the new housing estates inside the city, often forcing the projects to be built on the outskirts of Metro Manila. The outcome falls short of expectations and is deemed undesirable for both the beneficiaries and DILG.
Housing in a Manila Slum. (Photo by viewfinderview from flickr.com CC BY-NC 2.0)
The second obstacle comes from a small subset of beneficiaries that DILG officials refer to as "professional squatters". Professional squatters are people who reside in informal settlements that are in line for relocation projects. Once the relocation project is done and they have received their new homes, the professional squatters then sell off their new property at a higher price and move into a new informal settlement. The existence of these squatters complicates the relocation process, because preventing this loophole requires very careful data collection, which has not been done up to this point. Luckily, there is a successful community-based solution: members of the community can report professional squatters to the authorities. There is a strong incentive for whistleblowing because the existence of these wrongdoers slows down the relocation process considerably, to the detriment of the rest of the community.
The final obstacle is political opposition from other LGUs outside of Metro Manila. The other LGUs have strongly protested against the policy, insisting that areas outside of Metro Manila also get a piece of the pie. Because the DILG is a central government institution, it has been difficult for them to justify allocating this much money to Metro Manila rather than surrounding rural areas.
From this case, it is apparent that the persistence of service delivery gaps is not always a problem of insufficient resources. The policy loopholes, bureaucracy, and political problems described above are able to cripple even well-endowed government programmes, rendering those resources wasted or unable to be disbursed properly. If DILG wants to be able to run its programmes more effectively, it needs to be able to persuade or coerce local government units into cooperation, and find ways to prevent professional squatting.