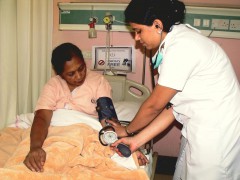 This article was originally drafted by Nisha Kumar Kulkarni and Intellecap for the newsletter "Searchlight South Asia" as part of the Rockefeller Foundation's Searchlight Process. For more Searchlight content on futurechallenges.org, please click here.
Corporate Social Responsibility in India
CSR is a hot topic in India's business world. The country has a rich tradition of CSR that began with philanthropy and today is defined by sustainable business strategy. Public policy has also taken notice. In 2010, the Government of India was deliberating over a proposal to make CSR mandatory for companies fitting one of the following criteria: (1) an annual net worth of at least INR500 crore (~US$94.35m); (2) an annual turnover of at least INR1,000 crore (~US$188.7m); or (3) an annual net profit of at least INR5 crore (~US$943,000). The proposed Companies Bill 2009 required that such companies allocate 2% of their average net profit of the preceding three years to CSR activities. The proposed law did not go through in 2010, but earlier this month, the Indian Cabinet approved amendments to the Companies Bill 2011, which includes the 2% clause. If the new Companies Bill does pass, India will be the only country in the world to have legislated mandatory CSR activity.
Woman receiving health care in India. (Photo by Global Environment Facility from flickr.com, CC BY-NC-ND 2.0)
Though the merits of CSR are clear, legislating it does pose some important concerns. In a September 2012 article in The Hindu, Mohit Kishore makes an important point on the subject of mandatory CSR in India. He writes: "…if a fixed percentage of profits were to be allocated by each firm towards CSR, it must be implemented in a manner that builds on the strengths that professionally-run companies already have, as opposed to tokenism." Alongside these concerns are questions about how enforcing the 2% rule will be implemented and what the consequences would be for non-compliance.
Business and the Urban Poor
Because India has a predominantly rural population, it comes as no surprise that CSR initiatives have historically leaned in that direction. Certain issues, particularly education, have attracted a high proportion of volunteerism and philanthropic giving. There has, however, been a slight paradigm shift in the 2000s, where large companies are starting to work with the urban poor to impact areas such as health and infrastructure.
GlaxoSmithKline (GSK), one of the world's largest pharmaceutical companies, has been present in India since 1924. The company has an active CSR practice that includes running a primary healthcare center (PHC) at Mumbai's largest garbage dump in Deonar, in collaboration with the Niramaya Health Foundation. Starting in 2009, GSK decided to work with the young rag-picker population who are mostly neglected in the healthcare landscape.
In a very different project, French industrial company Lafarge has been working with UN-HABITAT to renovate slum communities and build affordable homes. Lafarge is working on ways to grapple with the unique challenges of slum renovation efforts. The company is also teaching this mindset: it has launched the Studio+ initiative, in partnership with Mumbai's Sir J.J. College of Architecture and URBZ, to give students firsthand field experience in creating affordable housing.
Building Cities: An Ambitious Scope
CSR in some areas has created entire cities: the city of Jamshedpur, in Jharkhand state, is an ideal example. Founded by J.N. Tata, founder of the Tata Group, Jamshedpur was India's first planned industrial city. It is the third largest city in eastern India, after Kolkata and Patna, with over 1.33 million inhabitants. It has been called the seventh richest city in India, as well as the country's seventh cleanest city. It is also the only city in India without its own municipal corporation.
Public Housing under construction. (Photo by Design for Health from flickr.com CC BY-NC 2.0)
The city was born alongside the first Tata steel plant in 1908. Today, the city is well-maintained with its "clean and smooth" roads, 24/7 access to electricity and water, and even a community hotline to field questions and concerns. Being a successful hub of industry means that Jamshedpur does attract migrant workers who live in informal settlements around the city. The Jamshedpur Utilities and Services Company (JUSCO), a "one-stop utility service provider", makes efforts to incorporate them into city life.
Indian Hydel Power Company (IHPC) is another company that has been shaping cities. Since the 1970s, it has resettled more than 15,000 families after construction of a dam submerged a town. IHPC's first resettlement colony is in the state of Uttarakhand, and is in many ways a township like any other. Yet because IHPC has been present and actively engaged with the community for over 30 years, there are high expectations that the company will remain an authority to resolve local problems.
In both of these cases, the absence of a democratically elected municipal body prompts concerns about legitimacy, but there are also questions about whether private enterprise has been more efficient in serving city populations than local government authorities.
Sources
http://www.academia.edu/573578/CSR_Resettlement_and_urban_planning
http://www.bain.com/publications/articles/india-philanthropy-report-2012.aspx
http://www.dnaindia.com/money/report_in-companies-bill-csr-other-provisos-pain_1749047
http://articles.economictimes.indiatimes.com/2012-04-17/news/31355350_1_csr-initiatives-csr-activities-women-empowerment
http://www.gsk-india.com/corporate-urbanprojects.html
http://www.thehindubusinessline.com/features/weekend-life/article3893083.ece
http://www.thehindu.com/business/companies/article1452043.ece
http://indiagovernance.gov.in/files/JUSCO-FINAL.pdf
http://investinindia.com/news/cabinet-approves-amendments-companies-bill-2011
http://www.moneycontrol.com/news/cnbc-tv18-comments/csr-norm-may-not-be-mandatorywill-have-conditions_764716.html
http://povertydata.worldbank.org/poverty/country/IND
http://profit.ndtv.com/news/corporates/article-csr-spending-to-be-made-mandatory-for-companies-311691
http://www.tata.com/company/Articles/inside.aspx?artid=JALTbu7Wr3k=
http://timesofindia.indiatimes.com/business/india-business/India-Inc-takes-CSR-route-to-expand-business/articleshow/16485050.cms
http://en.wikipedia.org/wiki/Evolution_of_corporate_social_responsibility_in_India