Solar Power in Mali: A Miracle for Women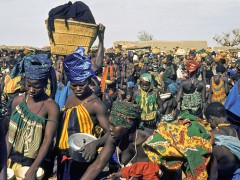 This article was originally drafted by the Centre for Democracy and Development for the newsletter "West Africa Insight" as part of the Rockefeller Foundation's Searchlight Process. For more Searchlight content on futurechallenges.org, please click here.
Less than one percent of rural communes in Mali have electricity. But in Sirakorola, the administrative centre of a commune located 120 kilometers outside the capital city of Bamako, solar power is synonymous with economic boom.
"Ever since we had the solar panels installed, women haven't been buying charcoal or kerosene for their household chores. We water our plants with the solar pump and our market gardens have become much more profitable," says Nana Sangaré.
Sangaré, the mother of seven children, is deputy mayor and the chairwoman of a Sirakorola women's association.  Her responsibilities range from market gardening and making food-grade ice to supervising her village's health center and its two schools.
"Before this project, we didn't have any income at all. Now I earn 3000 CFA Francs daily (around $6), which allows me to provide for my children's needs," Sangaré explains.
The Women of Mali. By H. Grobe (Own work) [CC-BY-SA-3.0 (www.creativecommons.org/licenses/by-sa/3.0)], via Wikimedia Commons
More than 30,000 people living in the commune's 55 villages benefit directly from the Malian National Program for Renewable Energy for the Advancement of Women (PENRAF), a project started by the Malian government in 2003.
UNDP provides financial support and manages all contributions to the project through an annual programme that emphasizes the use of a local work force. Artisan blacksmiths have been trained to make solar dryers, cookers and water heaters, and young volunteers have learned to install and maintain solar panels.
The Women and Youth Association manages the solar drying facilities, food-grade ice production, milk packaging, and the charging of solar batteries. They keep 30% of the income from sales and services. The remaining 70% is given to the mayor's office and earmarked for the replacement and maintenance of the solar panels.
"If we have a mechanical breakdown," says Sangaré, "we don't need to go to all the way to Bamako to find a technician anymore. In fact, we have our own spare parts stores. We are really proud of our village," she adds.
Young girl at a water pump in Mali, West Africa. By Ferdinand Reus from Arnhem, Holland (Fresh water  Uploaded by mangostar) [CC-BY-SA-2.0 (www.creativecommons.org/licenses/by-sa/2.0)], via Wikimedia Commons
At the health center, solar lighting has replaced kerosene lamps and flashlights that were previously used for check-ups or delivering babies. A water heater now provides constant hot water for patients and a solar-powered refrigerator stores vaccines and medications at the proper temperature. Since 2007, the health center has been filled with patients.
"Solar power has given rise to an economic boom in our commune," says Souleymane Coulibaly, the Mayor of Sirakorola.  "The use of solar power has greatly improved the quality of life for the population, especially women."