Special Report: Slum Demolition and the Urban Poor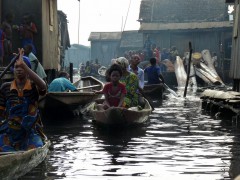 This article was originally drafted by Idayat Hassan and Audu Liberty Oseni and the Centre for Democracy and Development for the newsletter "West Africa Insight" as part of the Rockefeller Foundation's Searchlight Process. For more Searchlight content on futurechallenges.org, please click here.
Many inhabitants of urban slums in West African have been rendered homeless by governments that have carried out numerous demolitions of slum houses. In Nigeria for instance, a report from the Centre on Housing Rights and Evictions (COHRE) shows that over 2 million people were rendered homeless as a result of demolition. Violations of Human Rights Global Survey No. 10 show that 800,000 persons were rendered homeless in Abuja by the Federal Capital Development Authority (FCDA) as a result of demolition. Demolition displaced about 15, 000 persons in the Ago-Egun Ilaje area of Lagos. Over 100,000 inhabitants of Makoko were rendered homeless as a result of demolition that was carried out in the area by Lagos state government. In the same trend, Rivers State Government dispossessed about 5,000 to 10,000 people of their homes at the Agip Waterside Community in Port-Harcourt and also rendering about 1.2 million people homeless in Rainbow Town, Port Harcourt by demolition their houses. The Ogoni people were described as some of the worst affected. The same trend continues as the Abuja administration organises to knock down 19 villages within it. The Federal Capital Administration (FCDA) has revealed that 10,000 houses will be demolished and 300,000 persons rendered homeless by this exercise.
Residents of Makoko Slum. (Photo by  the Heinrich Boell Stiftung from flickr.com CC BY-SA 2.0)
The trend continues in Liberia, as Montserrado District 7, in central Monrovia was demolished and the number of inhabitants with an estimated 10000 rendered homeless. In Accra, Ghana, the Metropolitan Assembly demolished over 1,000 houses at Odawna, leading to the displacement of over 80,000 inhabitants in Old Fadama community. In Douala, Cameroon, settlements have been demolished, spilling many into street corners, though the actual figure of those that were rendered homeless as a result of this exercise is yet to be ascertained.
In reaction to the ongoing demolitions in Ghana, Accra slum dwellers formed the Slum Union of Ghana, as an umbrella body to promote the economic, social and cultural rights of slum inhabitants, as well as serve as a formidable and united voice for slum inhabitants across Ghana. Its Interim President, Mr. Philip Kumah, writing on his blog http://philipkumah.wordpress.com, said the meeting was attended by people from ten slums.
Likely fallout from these demolitions is an upsurge in crime rates in the affected countries further escalating the fragile security experienced in the regions' urban cities. Another implication of these demolitions will be an upsurge in commercial sex work, exploitation and trafficking with an attendant increase in the incidence of sexual transmitted infections (STIs). Health implications arising from these demolitions are not just limited to STIs but extend to outbreaks of communicable diseases such as cholera. Makoko's displaced inhabitants sleep with their families in fishing boats on the river every night. They defecate in the open waters and bathe in the same. This is simply a public health disaster waiting to manifest in Nigeria.
Thousands of children are also likely to drop out of school due to the displacements and the demolition of their schools. In a field trip to Mpape, one of the 19 slums to be demolished in Abuja, the Centre for Democracy and Development (CDD) heard the residents emphasise that their children will have to stop schooling for a while as a result of the relocation exercise and its attendant economic implication. According to them, after finding another roof over their heads, feeding will be their next obligation while education remains a tertiary item on agenda.
The ruins of a slum in Monrovia, Liberia. (Photo by Travis Lupick from flickr.com CC BY-NC-SA 2.0)
Governments argue that the slums must give way for better city planning and houses with better physical design. They say slums house criminals and are less hygienic, with poor water and sanitation, education and security. But, most settlements that have been pulled down did not go back into the hands of those who once lived there. Taking the example of Nigeria, most of the demolished settlements have been converted to highbrow estates for the rich without an alternative settlement plan or compensation for the original inhabitants.
Urbanisation is an integral part of economic development. As such, governments of West African states ought to invest in road maps for the rapid urbanisation ongoing in the region. There is a strong need for West African States both at national and regional levels to put in place a mechanism to ensure that international standards and procedures are followed in urban planning and development in West African cities rather than resorting to demolition as an option.
Sources:
http://allafrica.com/stories/201010050862.html
http://allafrica.com/stories/201108191661.html
http://www.oyibosonline.com/cgi-bin/newsscript.pl?record=11277
http://www.leffortcamerounais.com/2012/07/douala-land-disputes-and-slum-clearance-put-families-in-a-tight-corner.html
http://libertydgreatman.blogspot.com/search?updated-max=2012-05-07T09:12:00-07:00&max-results=7&start=10&by-date=false
http://www.punchng.com/news/fcta-to-demolish-19-villages-in-fct/
http://philipkumah.wordpress.com/
http://m.aljazeera.com/se/20128271954727559
http://allafrica.com/view/resource/main/main/id/00040662.html
http://nigeria.unfpa.org/abuja.html
http://sunnewsonline.com/new/national/19-villages-10000-houses-await-the-bulldozer/
http://www.africanews.com/site/list_message/22166
http://www.tribune.com.ng/index.php/education/29589-illiteracy-rate-in-nigeria-is-569-per-cent-unilorin-vc
http://blueprintng.com/2012/06/ecowas-hosts-regional-policy-forum-on-responsibility/
http://country-facts.findthedata.org/q/153/2395/What-is-the-literacy-rate-in-Guinea-a-country-in-the-continent-of-Africa
http://www.hmnet.com/africa/ghana/ghana.html