Stopping the violence in Jakarta's slums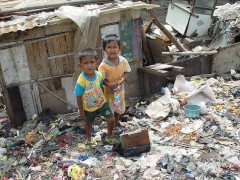 This article was originally drafted by the Lee Kuan Yew School of Public Policy for the newsletter "Asian Trends Monitoring Bulletin" as part of the Rockefeller Foundation's Searchlight Process. For more Searchlight content on futurechallenges.org, please click here.
Government agencies and other organizations concerned with poverty alleviation typically focus on physical and material issues, such as the quality of water and sanitation services, health care, and financial access. However, there are several social problems that are just as detrimental to the lives of the poor, yet go completely unnoticed.
Children in a Jakarta slum. (Slum life, Jakarta Indonesia. Picture taken by Jonathan McIntosh, 2004. [CC-BY-2.0 (http://creativecommons.org/licenses/by/2.0)], via Wikimedia Commons)
One of those problems is violence. Several slums bear witness to mass street fights that happen on a daily basis. These street fights happen primarily between adults, but teenagers have also started getting involved. The fights happen for a multitude of reasons, but always result in severe injuries, property damage, as well as panic and insecurity within the neighborhood.
One of the main contributing factors for this cycle of violence, according to Prof. Wirumoto from the University of Indonesia, is idleness and unemployment. Most of the participants of these fights are unemployed and have nothing else to do during the day. This increases the likelihood that people will join the street brawls and add to the ensuing chaos. Evidence from other countries also supports these claims. For example, Hagedorn (1991) observed that gangs in Milwaukee, USA only emerged after worsening economic conditions led to high unemployment, especially among ethnic minorities.
There are several different approaches for breaking this cycle of violence. Some cities, such as Nairobi, have toughened up law enforcement in the slums as a specific countermeasure for the street fights and gang activities. In Mumbai, police have set up partnerships with local communities to establish community police stations that are staffed by representatives from the community. These community "police officers" are primarily tasked with reporting and resolving small-scale conflicts between residents before they escalate into full-blown violence. Having community representatives assist the police alleviates the burdens of understaffed police forces and also adds an element of approachability to the local authorities.
The Jakarta government itself has opted for a "community-based approach" in dealing with this violence. This approach involves active participation from neighborhood associations in engaging with violent groups and programs for peaceful social interactions between people in the neighborhoods. The main advantage of this method is a higher likelihood of success, because outreach by the community is more likely to be accepted by the violent groups than outreach by authority figures such as the police or the city government. However, the main disadvantages are that this approach requires a community that is dedicated to solving the problem, and that it takes a long time to connect peacefully to violent groups.
Children in a Jakarta slum. (Slum life, Jakarta Indonesia. Picture taken by Jonathan McIntosh, 2004. [CC-BY-2.0 (http://creativecommons.org/licenses/by/2.0)], via Wikimedia Commons)
For the long term, the only sustainable solution for dealing with violence in slums is to provide more employment opportunities. Job provision is effective in the long run because it directly deals with one of the root causes of the violence: high unemployment. However, implementing this solution is tricky, because artificial stimulation of jobs is a difficult task. The Jakarta government needs to do one of two things: channel the city's economic growth into providing more labor-intensive and low-skilled jobs that fit the slum dwellers' skill sets, or provide adequate job skill training programs that can raise their competitiveness in the labor market.
Aside from what governments and local communities must do, there are vital roles that other organizations can play. Grassroots non-governmental organizations are well-positioned to empower local communities with the awareness to solve the problem of violence as well as the capacity to organize and engage with the violent groups. One example can be found in Tanah Tinggi, where sociologists from the University of Indonesia have tried to build awareness among the local neighborhood association heads on the importance of providing peaceful community activities that encourage friendly engagement among locals. As a direct result of that, Mr. Zakirun, one of the neighborhood association heads that we spoke to, bought a ping pong table for his community center so that children would spend their nights playing ping pong instead of engaging in gang activities.
Men transporting goods in Jakarta. (Picture taken by Jonathan McIntosh (Own work) [CC-BY-2.0 (http://creativecommons.org/licenses/by/2.0)], via Wikimedia Commons)
Furthermore, while waiting for the impacts of the long-term solutions of job creation and community-based engagement, there are short-term solutions that several organizations have been directly implementing in order to minimize the influence of violent groups on children. The Rumah Baca initiative launched in Kampung Lio, Depok is one example of providing alternative activities for children and teenagers to prevent them from getting sucked into a violent lifestyle. Some other University of Indonesia sociologists have tried building music studios as another activity geared towards teenagers, after seeing that teenagers in Jakarta are more drawn towards music than books. However, the reach of any individual activity center is geographically limited. Thus, there is a need for more organizations to step in and provide this kind of assistance to slums in other parts of the city.