The future is social but what of its future?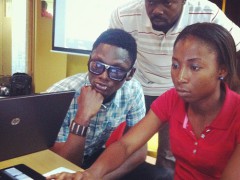 This article was originally drafted by Odoh Diego Okenyodo and the Centre for Democracy and Development for the newsletter "West Africa Insight" as part of the Rockefeller Foundation's Searchlight Process. For more Searchlight content on futurechallenges.org, please click here.
From February 5 to 7, 2013, a retreat on Using Social Media for Improved Democratic Governance and Citizen Participation was convened by the Youth Action Initiative Africa and the Nigeria country office of the UNDP through its Democratic Governance for Development programme. The workshop was apparently the first major attempt to leap from celebrating the growing legendary power of social media to charting a plan for mainstreaming that power.
Participants at the retreat discussed issues ranging from internet governance, through social media regulation to the possible futures for social media. The audience was variegated enough to handle the discourse. Academics, social entrepreneurs, civil society activists, journalists, election managers and other representatives of government formed a large percentage of the participants. Acknowledging the limitations of extant knowledge of the field, they agreed on the imperative of studying social media usage patterns, and converting social media data into knowledge.
The retreat examined cases of successful use of social media for mobilising citizens using new media in the 2011 General Elections, the massive fuel subsidy protests in January 2012, and in ensuing anti-corruption campaigns after the protests. Practitioners discussed methods of using social media to start up businesses and improve existing methods of resource mobilisation. To improve access to use of social media, the retreat strategised on how to develop and implement training programmes to enhance knowledge and skills in the use of social media.
Distinctively, this retreat developed an action plan for using social media in improving democratic governance and citizen participation. But, the more significant achievement from the retreat would be the resolution that Nigerian users of social media would start engaging the phenomenon on a level higher than they currently do. They expressed desire to participate more vibrantly at the policy levels of internet governance, as well as creating and patronising more local social media platforms, thus reducing dependence on existing platforms like Twitter, Facebook, etc. which prove to be restrictive when access to big data is needed. The Internet Governance Forum of the World Summit on the Information Society (WSIS) was identified as one such policy level that needs more active engagement with.
On the whole, there was an implicit realisation by participants at the retreat that though social media will remain relevant –and possibly will increase in relevance, owing to its apparent conquest of traditional media—the future shape of social media is amorphous and is being chiseled at now.
Tags: Civil Society, Internet. communication, networks, Nigeria, social media, UNDP