The Move Towards Diversification: New prospects in value offer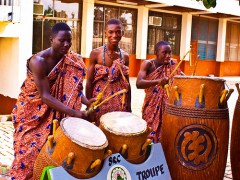 This article was originally drafted by the African Center for Economic Transformation for the newsletter "West Africa Trends" as part of the Rockefeller Foundation's Searchlight Process. For more Searchlight content on futurechallenges.org, please click here.
The forecast trends for tourism on the African continent are encouraging. Over the next decade, Africa's tourism industry is expected to grow at a faster rate than the rest of the world. But it seems that even this growth will not be fast enough to significantly increase the continent's share of global tourism. The UNTWO projects that the share of Africa will only rise to just about 5% over the period. By Africa's potential, this figure is too low and much needs to be done to capture a bigger share of the world market. How this could be done, is a challenge that the continent's tourism managers including in West Africa must rise up to in the 21st century.
To gain a bigger share of global tourism there is need to think more about product development so that product offerings can be diversified. There are areas of value like surf tourism that are totally undeveloped; yet they have good potential in the region. The region also has a rich cultural heritage that revolves around a variety of festivals that can be a platform for developing a variety of products tailored to both global and domestic markets.  Below, we present examples of how a few countries are showing promise in the areas of surf tourism, festival-based tourism, and golf tourism.
Surf Tourism
The region has a number of locations that can compete with the best locations in the world in attracting surfing enthusiasts. There are fledgling efforts to develop this potential as evidenced by the mushrooming of surf camps.There are now five surf camps in the region namely: The Alamdies and N'Gor Island in Senegal, Ponta Prenta in Cape Verde, Busua in Ghana and Rosbertsport in Liberia.
Efforts in product development are also evident – as the camps are offering a product that goes beyond surfing. The Ghana surf camp combines the surfing experience with a variety of activities such as a trip to the traditional fishing village, a visit to the only virgin coastal rain forest in Ghana and other choices. Surf camp participants also can arrange for drum lessons offered by local musicians on the Djembe or any of a wide variety of drums native to Ghana.
Surf tourism can boost local economies and provide entrepreneurship opportunities, especially to young people. Some examples on the ground can provide useful lessons. In Ghana, a project called The Black Star "Learn to Surf" Campaign has been established in part to help local Ghanaians take ownership of their ocean and beaches. It gives them free access to surfboards so they can learn to surf and take advantage of tourism opportunities.
Another sport-related tourism industry gaining attention is the spread of golf in Nigeria. Nigeria Tourism Development Corporation (NTDC) has embarked on a program to promote golf tourism. NTDC has reached an understanding with the Professional Golfers Association of America Tour (PGA Tour) to promote and develop the game in Nigeria.
Leveraging festivals to grow tourism 
A drum performance in Ghana (by Vancouver Island University via flickr.com CC BY-NC-ND 2.0)
The diverse heritage of West Africa means that many festivals are held throughout the region to celebrate various occasions. Examples of successful models to attract include harvest-themed festivals, diaspora-themed festivals, and art-themed festivals:
The Gambia has created a unique festival designed to attract African American tourism. The biannual festival has a rich programme of events including cultural performances from different ethnic groups, tours to historic sites such as Juffure & James Island, dance & drum workshops, carnival parades, symposia, trade fairs, traditional sporting events and religious services.
FESPACO, 'the Africa Oscars' has been help in Ouagadougou since 1969 and take place every two years. It serves as market for the African film industry and also helps promote African cinema and culture.
Development of tourism products based on festival is commendable; but there are concerns that a proliferation of carnivals is killing the lure and magic of the festivals. Also, it is almost impossible to make culture based festivals tourist attractions without diluting their cultural significance. Some festivals are core to the social fabric of societies holding them. For instance the Woodable are now staging separate festivals to avoid tourism and commercialization that has been creeping into their celebrations.
Source:
Tags: Cape Verde, festivals, ghana, golf, Liberia, Senegal, surfing, Tourism, UNTWO, west africa