The Vocational Training Option for West Africa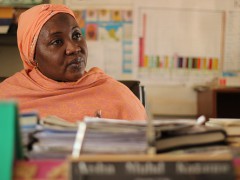 This article was originally drafted by Audu Liberty Oseni and the Centre for Democracy and Development for the newsletter "West Africa Insight" as part of the Rockefeller Foundation's Searchlight Process. For more Searchlight content on futurechallenges.org, please click here.
Youth unemployment in West Africa has been attributed to low standard of education and training. Employers often lament that many candidates do not possess aptitudes suitable for available employment opportunities. Vocational training is being viewed as a fundamental approach to solving the problem as it builds youth competences for employers' preferences.
NGO, Evergreen, has trained 1,300 youths in the area of computing, internet website design, catering, nutrition, interior decoration, events management, marble and tiling, and beads making in Damaturu, Yobe State. In the same trend, Abuja Agency for Science and Technology has trained and graduated 160 youth in diverse skills on its youth empowerment programme that is funded by the Abuja MDG's office. The curriculums included plumbing, tiling and other trades. In the same vein, in Lagos state, the Empowerment & Resource Network offers skill acquisition training, and reached over 13,000 residents from 2007-2012.  Also a recently released independent report says over 35, 000 women were trained on diverse vocational schemes in Lagos state in 2007, and the number rose to over 60, 000 by 2009.
Jigawa State and Ekiti State are also making giant strides in the area of vocational skills acquisition. The Jigawa State Ministry of Economic Empowerment has trained and graduated 1,636 youth on diverse skills sets, while Ekiti State has trained and graduated 200 persons in the art of diverse skill acquisition. After graduation, each of them was given N200, 000.00 (about US$1290) by the state government to establish their own a business. Just like Evergreen, another NGO known as the Centre for Women and Children Development (CWCD) gives women vocational training and money to establish business and claims to have affected (directly and indirectly) the lives over 10 million Nigerians.
The principal of a midwifery school in Nigeria. (BY DFID from flickr.com CC-BY-SA 2.0)
Ghana is experiencing similar involvement by the private sector, nongovernmental organizations, and government in filling the skills gap. Vlisco BV in Netherlands and the Dutch Government, in partnership with industries and the Ministry of Education Science and Sports, have commenced a project to put in place a technical training centre that will fast track vocational training for industries in Ghana.
Education at both primary and secondary stage offers the important base, but available evidence shows that vocational training has the capacity to give the required skills that are relevant in the labour market. However, to be functional, vocational training has to make available the accurate balance between universal skills, occupation-definite skills and learning on the job so that training gained is neither too universal nor too constricted.
Vocational skills and training are yet to be seen as a veritable option among West African countries, in spite of the reality that vocational training leads to improved skills required for employment. In many West African countries vocational training are not acceptable to many youth and families; they view it as the last option available to the poor who cannot afford regular university education which is a passport to a better-paying, white collar jobs. Also, certification appear to be more valued in West African countries than skills, which makes vocational training and skill acquisition to be seen as unappealing option. In West African countries, few institutions and policies support vocational training and skill acquisition. Governments do not seem to perceive vocational training and skill acquisition as a serious venture to embark on.
Success stories in vocational education and training across West Africa face a lack of acceptance among policymakers who perceive vocational education and training as substandard. A bigger challenge is posed by the deep-rooted belief and perception among the people that professional education that leads to white collar job is the only way to go. To stem this tide, initiatives that inform the people on the gains of vocational education and training must be championed by ECOWAS. All ECOWAS member states should strongly involve the local community and incorporating vocational education and training in the primary and secondary school curriculum.
Nongovernmental organizations and other local networks working towards achieving sustainable vocational training and skill acquisition ought to be supported by state government and individual philanthropists. Churches and other religious places of worship should educate their members on the role and importance of skill acquisition and vocational training. ECOWAS can use its media outreach to disseminate information, educate the people on how powerful vocational training and skill acquisition are in transforming economy of a state. Major players in the informal sector must be stakeholders in designing policies and programmes on vocational education and training. This is the focus of the home-grown philanthropy like The Tony Elumelu Foundation, which supports internships and entrepreneurship development. The Tony Elumelu Foundation, the TY Danjuma Foundation and Dangote Foundation point a way forward in support of skill acquisition and development.
Tags: ECOWAS, employment, ghana, Nigeria, Vocational Training, west africa