Setting the old against the young: the Uganda scenario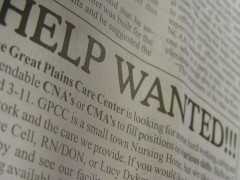 Competition for the few available jobs in Uganda is pushing the young and old to the wall. Pressure mounted by the young university graduates who seek jobs, recently made President Yoweri Museveni to call for reduction of the retirement age from 55 years to 50 in order to create job for the young Ugandans.
If implemented this move would create 30,000 jobs. But this is just a drop in the ocean. The aged civil servants who are to be affected by the President's directive are resisting it. This is creating tension.
A World Bank report, Africa Development Indicators 2008/09, says "unemployment among Uganda's youth is one of the highest in Africa, with 83 in every 100 people between 15 and 24 years unable to find work".
According to the labour flow figures at Uganda Investment Authority (UIA) and the Uganda Bureau of Statistics (UBOS), out of more than 400,000 Ugandans graduating from tertiary institutions annually only about 113,000 are able to find jobs in formal employment, leaving the rest to search for jobs in the informal sector. Majority of the school leavers are youths.
Uganda's unemployment rate among youths stands at 32.2%, while the unemployment rate among youthful Ugandans completing university education is at 36 per cent.  The government which is currently the biggest employer has only 300,000 jobs but most of these are filled up. This leaves most young but qualified Ugandans unemployed or underemployed.
In Uganda, the young generation is always complaining that employers are designing the job market in a way that is unfavorable to them by demanding many years of experience which experience is not got from school. "We are exploited in the name of 'experience' yet we can deliver better than that word," a fresh graduate but young survey engineer told me.
Unemployment is a big issue in Uganda. National unemployment rate stands at 3.5% but the rates are wider with different age groups. Uganda's unemployment rates are more pronounced among the youth than with the old. The government is putting emphasis on private sector led economy where it expects more job creations.
Consequently, some young people with connections have migrated to other countries in search of jobs. But even where they run to; things may not be as rosy as they expected. A few years ago, South Africans began xenophobic attacks on Africans from other countries for taking their rightful jobs.
High unemployment figures and the associated poverty among the educated youths is rising concern since Uganda has largely a young population. Some 45% of the Ugandan population is under 25 years old. The current population estimates show that there about 33 million Ugandans. Some estimates show that 77% of Ugandans are below 30 years old.
Recently, there appears to be a generational conflict in the political sphere. Young Ugandans in the ruling National Resistance Movement party are calling on the aged party leaders to leave the stage. Youthful legislators who belong the young generation have been a source of dissent in the ruling party as they have gone against party positions in parliament.
On the political scene, where most well-paying jobs in Uganda exists, the average age of Uganda's 28 cabinet ministers, including President Museveni, is 62 years. Of these, 20 are older than the public service retirement age limit of 60 years. This is a grotesque representation for a country as young as Uganda. Only 16% of Ugandans are above 60.
Young legislators like 31-year-old Muhammad Nsereko of Kampala Central "represent the new generation of young people demanding for bigger jobs in government. Nsereko, who is from the ruling political party, has emerged as a source of opposition to Museveni's rule from within the ruling party. Nsereko and his young colleagues say they have a stand-by team of your leaders prepared to take over from the aged leaders of Uganda anytime," The Independent argues.
The old argue they have the experience and expertise so their input is still needed. This is creating some impasse over job security and availability. It has to be resolved soon before it explodes.
Tags: Africa, Africa East Africa, employment, Help Wanted, Kampala, National Resistance Movement, retirement, UBOS, Uganda, Uganda Investment Authority, unemployment, world bank, youth, youth unemployment, Yoweri Museveni