Shale Gas in Poland: A Future Blessing or a Curse?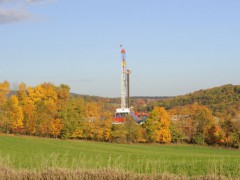 Two years ago news about the shale gas discovery in Poland electrified European public opinion. Rough estimates indicated amounts significantly exceeding the country's internal market needs – resources that could make the whole region of Eastern Europe independent of outside imports.
A New Energy Eldorado in Central Europe
Investors from the energy industry – including the global market players Chevron, Conoco Phillips and Exxon Mobil – are standing in line for gas exploration permits.  The number of licenses granted has reached the 100 mark and is still growing. A report by the U.S. Energy Information Administration published after the initial drillings doubles its previous estimates  to 5.3 trillion cubic meters. These reserves alone would cover Polish gas needs for the next 350 years.
People have known about shale gas for a long time, only there was no cost-effective technology to exploit it. In the last decade, a revolution in this field has taken place and now that the USA has mastered the technique of shale gas extraction it has overtaken Russia in the rankings on world gas production. The Polish mining industry satisfies 30 percent of domestic market requirements while the remaining 70 percent comes from imports.
If initial estimates are confirmed, in the next ten years Poland could change from being an importer of gas to an exporter for the region. It's a great opportunity for the energy industry. For a country whose energy balance lacks nuclear power and is based almost entirely on coal, discovering rich deposits of hydrocarbons is a great gift from Mother Nature.
The sheer number of objectives that would be possible with income generated from selling gas puts you in mind of the question "What would I do if I won the jackpot?' But following reports from mining operators confirming the existence of huge gas deposits in Poland,  such speculations are no longer a fantasy. The catalogue of upcoming changes which revenue from gas sales could bring about looks very impressive indeed.
New Perspectives and Solutions…
First of all: energy independence. Poland, like the majority of European countries, is an importer of strategic resources. The Warsaw case applies to all countries from Finland to Greece which are dependent on supplies of gas from Russia. And the policies of Russian gas producers provide sufficient evidence that gas supplies can be used as a means of exerting political pressure. Self-sufficiency in this field would thus assuage public concerns about the country's energy security.
But let's move on. The estimated scale of gas deposits exceeds the consumer needs of Poland. It means that the country could switch from being an importer to being an exporter. Yet how will such a move affect the continent's market, its energy security or even international politics? Only the future will show whether Poland is able to avoid exploiting its resources for  political ends.
A huge amount of gas would be beneficial to the energy industry. Unlike Germany or France, whose production structure is based on nuclear power, Poland's production structure is coal-based. The amount of pollution emmitted by fossil fuel power stations is one of the fundamental problems of compliance with ever stricter environmental protection regulations. The EU plan to reduce CO2 emissions by 20 percent by the year 2020 is one example of how this issue may be dealt with. Even though certain people are questioning the ecological value of shale gas, it would certainly enable the Polish energy industry to switch from coal to gas.
The follow-on effects of shale gas discovery mentioned above are likely to occur. Yet it is much more difficult to pinpoint the uses to which the gas revenue streams would be put. It must be left to successive governments in Poland to deal with the issue of managing the financial profits and we must hope that their names will not be brought up in connection with the "Resource Curse".
…and New Problems?
Norway is one very good example of natural resources management. After discovering rich gas and oil deposits on the continental shelf, the government in Oslo founded two institutions: Petoro and the Norwegian Petroleum Directorate (NPD). Petoro deals with managing all financial assets stemming from exploitation of Norwegian deposits and generating profits which are then put directly in the Norway's central bank, while the NPD aims to maximize public profits from managing Norwegian deposits. NPD operatives debate how income derived from oil and gas could become the basis for building and stimulating new and profitable sectors.
All of this is a perfect blueprint for Poland to face the 'Resource Curse.' Shale gas would be, without a doubt, a test of the reliability of a young democratic system. It could also be a threat as well as an opportunity to modernize the country. As a country working its way up, Poland needs examples of good practice and a wise strategy for dealing with the gas boom – it needs to answer how the whole of society could benefit from its gas deposits.
Building infrastructure, scientific research or developing hi-tech industries are only a few ways of using the funds. And here it is well worth learning the lessons reaped from the Norwegians' long experience – after all, the solutions they came up with have made them one of the most prosperous societies in the world. Wise management of natural resources is indeed possible, and the Polish political system has already stabilized enough to fight the 'Resource Curse'. Experts say that prospecting plus gathering and analysing results will take a couple more years. There is time enough to get ready.
Tags: Central and Eastern Europe, Energy, Natural Resources, North Sea, Norway, Poland, Resource Management, Russia, shale gas, USA