Solomon Islands: young people flock to the city in search of jobs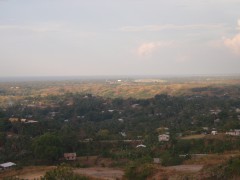 In search of employment opportunities, young people from the outer provinces of Solomon Islands flock to Honiara – the country's capital – in massive droves.  There, they bunk with their extended relations who live in peri-urban settlements and in overcrowded housing.  The only source of drinking water is from a nearby pipe or stream, some having to walk down dirt paths down a steep valley to fetch the water.
Despite the basic living conditions, Honiara is the only place to go for opportunities and 'get ahead in life.' Many young people are sent to Honiara by their parents and relatives with the hope of young people gaining employment and being the financial provider for siblings and family members living back in the villages.
However, finding work in the big smoke is not easy. Honiara being the only major employment and service centre in Solomon Islands and with thousands of other young people looking for work, there is stiff competition. Young people aged 15 years and under account for 38% of the country's population (Secretariat of the Pacific Community).
"The problem is many young Solomon Islanders lack the basic education and skills required for the vacant positions that are available. And there aren't too many positions available so that makes it even harder to find work in Honiara," my local friend tells me. She is one of the privileged few, who have received tertiary education from an Australian university.
"It's not their [young people] fault. The education system here is not designed to make young people job ready. Even if a young person graduates from high school, they still don't have the skills that the potential employers are after."
The mismatch between what the education system teaches and what the job market demands is a view shared by many people in Solomon Islands. Another friend of mine who teaches at a high school in Honiara once said to me "I worry about my students. I worry that there will be no jobs for them to go to when they graduate. I worry about their future…"
Aside from the jobs mismatch and limited employment opportunities, many young people I spoke to in Gizo and Honiara told me that their parents could not afford to send them to school. That's why many dropped out or didn't go to school at all. Achieving universal primary education for all by 2015 is Goal 2 of the United Nations Millennium Development Goals (MDGs), which Solomon Islands is a party to.
According to AusAID, the progress made by Solomon Islands in achieving MDG 2 is 'of concern'. Whilst net primary education increased from 56% in 1999 to 94% in 2005, completion rate decreased from 85% in 1991 to 79% in 2005.
Young people without education and jobs are not solely an economic issue but an issue for the country's social stability. Quite a few disgruntled young people without jobs were involved in the riots that saw Honiara's China Town being burnt down to the ground.
For too long have politicians and decision makers considered youth to be a problem, rather than a solution to the development of Solomon Islands. Young people need to be part of the policy making process in deciding what strategies are needed to tackle the country's youth unemployment.
The future of Solomon Islands rests in the hands of young people so investment in their education and training, and development of the business sector is paramount. You only need to step out onto the streets of Honiara to see just how many young people are looking for work. If I can see this, then why can't the politicians?
Tags: education, future, GLOBALISATION, Honiara, jobs, migration, Pacific, Solomon Islands, South Pacific, unemployment, urbanization, young people, youth, youth unemployment