Some glimpses of Skardu City in Pakistan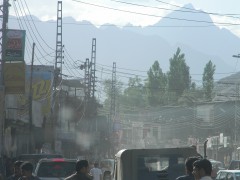 As part of our  coverage on "The New City" we asked our bloggers for some pictures from their cities. Are there any places in their cities that are prime examples for sustainable urban living? But it could also be a negative example in order to show how a city should not look like.
This picture reflects the most urban part of Skardu town situated in the Gilgit-Baltistan region of Pakistan. This part is known for its natural beauty but this view is the inside of a huge market known as New Bazaar (Naya Bazaar). It has hundreds of shops that offer almost everything from trekking supplies, souvenirs, local goods, and eatables. Skardu is technologically way behind the idea of urban cities but it has its own definition of urbanness as reflected in the picture!
Preserving the Forts – in this mountainous area – to increase sustainability of Skardu as the people here generate a huge amount of budget through its tourist resorts.
Tags: Skardu City, sustainability, Tourism, urban living