Sustainable Challenges at YouthTime Global Forum in Jakarta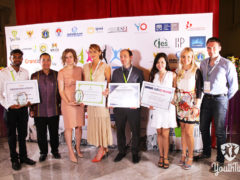 I went to Indonesia feeling curious. I did my reading before the event. Indonesia had problems in the past. It has problems now too. Water scarcity, for example. According to 2015 World Bank statistics – nearly 50% of population don't have access to safe water, and more than 70 percent of the nation's 220 million people rely on potentially contaminated sources. Also economic growth is not being supported by a corresponding expansion of infrastructure and institutional capacity. Clearly this creates a problem for ordinary citizens who get poisoned by the water on a regular basis.
But water scarcity and other ecological problems, along with issues such as poverty – are just components of bigger social and economical problems. They rather come as consequences, not the prime causes. On the bright side Indonesia is full of resources, as President of IPMI Business School and Harvard graduate, Mr. Jimmy Gani stressed. Anything can grow in Indonesia and therefore there is enough competitiveness to start your business and strive to be better at it:
"Through the age of interconnectedness I see a lot of examples of young people striving not just to create businesses but also to improve lives of their local communities. And this is what social entrepreneurship is all about.  Three major factors are important to take into consideration, they include: globalisation, urbanization and digitalisation. If you manage to deeply analyze and sustain these three factors to your favour, you will be able to manage your business well."
A very good example, according to Mr. Jimmy Gani can be found in recent development of the app called "iGrow". Easily downloadable from the app store the app allows anyone to become agriculture practitioner without actually going to the field. How is this possible? iGrow provides everything from planting, supervising, harvesting, selling the crops until you get the profit sharing. App developers believe in creating scalable and efficient farming industry. They already have put 2,200 farmers to work and 1,197 hectares of land to use, delivered 500 tons of healthy peanuts, and gained revenue for the farmers, landowners, and investors. And that's only in Indonesia!
In much of the world, there are millions of underemployed skilled farmers and millions of hectares of underused arable land in emerging markets like Indonesia.  Meanwhile, the demand for high-quality organic agricultural food gets higher day after day. UN research states that crop yields need to double within 40 years in order to keep up with world population growth.  The FAO said that our food production will have to increase by 70 percent for an additional 2.3 billion people by 2050. Therefore iGrow solves the bigger problem of unemployment too, acting like an excellent example of social entrepreneurship project.
Social entrepreneurship has been mentioned many times throughout YouthTime Global Forum and for a good reason. Later when participants started presenting their projects a lot of them were connected to this idea. Young doctor Swechya Neupane from Nepal is a medical officer in a hospital in Kathmandu, Nepal. In Barcelona YouthTime Magazine Forum Swechya has received a grant for 10.000 dollars and realized a project that really helps people in her community.  Her project called "Basic training on health
for female community leaders on health care" has targeted deprived women of Khokhana and Bungmati areas in Nepal. The training that these women received has improved the awareness and knowledge about different health related conditions that are common in children and those that occur commonly during pregnancy. During 6-month long project Swechya has educated all generations of women in her community and now receiving her MA degree in the field she wants to help even more people in future.
Here you can watch the video with the projects participants have proposed this year. All of them are full of enthusiasm, youthful energy and idea to make the world a better place:
Problems that exist, thankfully, are acknowledged by some of the Indonesian government members that attended the Forum.
"There is no better time to exchange the ideas. The contribution of youth is vital in ensuring that global issues are resolved." – said Mr. Wahono Yulianto, First Secretary Social & Cultural Affairs of the Embassy of Indonesia in Prague. 
YouthTime Global Forum has proved this indeed – young people make the real difference and have a lot of ideas saved for the future. Let's wish them good luck and enjoy their cheerful singing: