Sustainable mountain tourism: A growing challenge for Nepal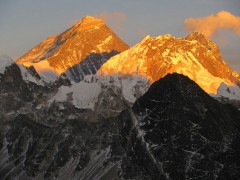 Although Nepal has a rich and ancient culture, the country has become more famous as an adventure playground for tourism, especially mountain tourism. The Everest range and the Annapurna circuit –mountaineering's most prestigious venues – are beloved of mountaineers and have generated substantial amounts of income for the country and still continue to do so.
Mountain tourism is a significant source of income for people living in and around the famous mountainous areas in Nepal. Mountain expeditions alone have brought Nepal a total of US$ 3,028,600 in royalties. Mt. Everest generated the lion's share of these, bringing in US$ 2,343,000 in 2011. Besides which, in 2012 Nepal's tourism and travel sector accounted for 3.6 percent of all jobs. In the same year, the total contribution of travel and tourism to the GDP was Rs 147.2 billion (or 9.4 percent).
Despite this revenue stream for the country, what's really worrying is that mass tourism is leading  to  increasing pressure on the environment  and much negative publicity about the Everest area. Too many ascents each season, result in overcrowding and queuing, short tempers and accidents, posing a constant danger for climbers. Inexperienced climbers are also trying to set bizarre climbing records like standing on their head or even taking off their clothes while on the summit and also making false record claims of reaching the peak. Piles of garbage like scattered equipment, empty oxygen canisters, tattered tents, plastics bottles and cans are carelessly disgarded by members of the climbing teams – not to mention the dead bodies of climbers left behind as a result of negligence or the tremendous difficulty involved in bringing them back to base camp. They are another grim hinderance for climbers and a pollutant for the environment.
What's more, melting glaciers and melting snow have exposed more rocks and rubbish along the mountain trail which is harmful for climbers as well as for the diversity of the ecosystem and the communities living in nearby areas. Rising mountain temperatures and pollution driven by global warming has brought about considerable changes to Everest's landscape in recent years.
Rampant  commercialization with start-up agencies offering cheap rates for expeditions with the sole purpose of making a quick buck is not uncommon. These agencies usually don't have the right equipment or experience to guide expeditions and are risking people's lives. As there's no entrance requirement for climbers on how much experience they should have, amateurs and unfit people are scaling the mountain just for the "kicks" involved,  thus putting their lives at risk as well as the lives of others.  To date, about 4,000 climbers have conquered Everest yet over two thirds of all expeditions have been mounted in the last 15 years alone.
Against such an alarming backdrop, promoting sustainable mountain tourism – that is protection and conservation of the affected and surrounding areas, and of the communities living there  – needs to be a priority for the country. More  innovative conservation works to raise awareness about pollution, garbage and the impact of climate change in mountainous areas are required. The private sector, the United Nations and even some notable tourists are doing their share of conservation work but  it's a truly herculean task and more cooperation from the Government is needed.
The recent promising news of the "Everest climbing rules" being tightened by the Government gives us a glimmer of hope for mountain tourism especially in the Everest area . Purna Chandra Bhattarai, Joint Secretary of the  Ministry of Culture, Tourism and Civil Aviation (MoCTCA) told a local newspaper that the Government  will also set up an Integrated Service Centre at the Everest base camp next year to regulate mountaineering activities which includes coordinating rescues, protecting the environment, offering communication and safety related services, checking permits, verifying summit claims, putting a check on bizarre records and restricting helicopter flights.
But whether such concerted efforts on the part of the Government will actually materialize and bring about some positive changes very much remains to be seen. If they do not, the loss in terms of culture and natural environment will be far greater than the economic benefits mountaineering tourism brings to the local communities and the nation. If properly managed and planned mountain tourism can be an even greater asset to Nepal, not just in terms of economic growth but as a shining example of sustainable development as well.
Tags: awareness-raising, conservation, growth, Mountain tourism, Mt Everest, nepal, sustainability, tourist destination