Sustainable transport in Birmingham: What about bicycles?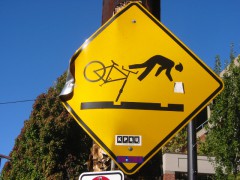 SUNDAY, 22 September 2013. A few days ago, there was an European Car-Free Day which encouraged drivers to give up their cars for one day. Since I have moved to the bicycle-friendly Netherlands, I could hardly be aware of such campaign. Instead it made me think of the issues around sustainability in transportation and economic growth.
Mobility and transportation are core elements for any urban designer constructing a comprehensive and sustainable transport system in a rapidly growing city.  As more and more people migrate to cities, there has never been such an emphasis on finding a form of a mobility that is sustainable, energy-efficient and non-pollutant.
Birmingham's landscape, UK. Photo copyright belongs to ahisgett (Flickr, CC BY 2.0)
 Now Birmingham is hardly one of Britain's economic hubs. Once known as the 'City of a Thousand Trades', Birmingham's thriving manufacturing and automobile industry was severely hit by the 1970s recession. Since then the city had seen only modest growth in jobs, driven primarily by the public sector. Nevertheless with the £49bn of the Greater Birmingham Project, Birmingham is currently working to stimulate economic growth partly by finding the local ventures that create jobs and economic opportunities.
However, there is one more thing that Birmingham needs to focus on if it wants to meet another fundamental driving factor of economic growth: its infrastructure. The city's position on the map of England makes it absolutely perfect for connection and accessibility. There are pretty good train links connecting Birmingham to cities like Edinburgh, London, Manchester and Bristol. And the international airport connects the capital of the West Midlands to over 110 destinations around the world. Such accessibility should be a major point for business opportunities and investment.
However, when I lived in Birmingham I found commuting across the city excruciating and exasperating to the point of pain. Commuting daily from the east Acocks Green district to Edgbaston on the south side meant that I had four options open to me – a) get a driving license double quick; b) buy the quite expensive monthly train pass; c) commit myself to cycling everyday for at least half an hour; d) stay at home –  because walking 6 miles (almost 10 km) one way was simply too much for me.
Train vs. bicycles in Birmingham. If you can afford it, why wouldn't you take a train? Picture copyright by csaavedra, (Flickr, CC BY-NC-SA 2.0)
Indeed it wasn't long before I realized that to get to Edgbaston as quickly as possible and at the same time to do my bit for the environment, I had to choose expensive public transport. Interestingly, a train journey would take me as much time as going by bus. The bus makes more stops but definitely has a better carbon footprint. Using the less sustainable car would cut the time of my journey in half. (Un)fortunately I had no driving licence, so public transport it had to be!
But now that I'm living in the Netherlands, I wonder why I didn't choose to use a bicycle in Birmingham. The sad truth is that like most other British cities, Birmingham has got a very poor cycle network. When I first cycled to my university, I saw at first hand how scary it feels to cycle next to fast moving cars and trucks that leave their tail wind in your face. After a few tries I decided to use my bike more on local streets and at weekends rather than on the busy Bristol Road or Warwick Lane streets on Monday morning.
This is what I was thinking when I wanted to cycle in Birmingham. Bicycle hazard sign, Portland Oregan photographed by Salim Virji (Flickr, CC BY-SA 2.0)
Cycling alongside fast cars is not an option for rookie cyclists and other newcomers who want to cycle quickly from A to B. It's not an option either for families with children and elderly people. As I now cycle everyday and am totally ecologically friendly in a totally bicycle friendly country, I realize what I needed (and didn't have) to get me to cycle everyday –  namely good cycle routes and easily accessible bicycles like you find in London.
Cities like Manchester, Leeds, Birmingham, Newcastle, Bristol, Cambridge, Oxford and Norwich are to share £77 million of funding to create new cycle routes. This money would work wonders in one single city but is not so great when shared out between so many. To stimulate sustainability it would be so effective and so easy to just make people like riding bicycles and to make it safe for them too. Britain has made a good start but creating functional separate cycle routes will cost a great deal more if such paths are to meet the needs of city like Birmingham. We need a bit more money to create another sustainable Amsterdam. Until that point is reached, I will continue to cycle – only not in Birmingham!
Tags: birmingham, Britain, Cities, sustainability, sustainable transportation, united kingdom