Swimsuits and Sexual Revolutions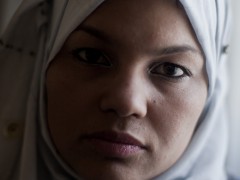 When I first met her in Cairo, Samira Ibrahim was wearing a swimsuit. Under her clothes. All the time.
Ibrahim had regularly joined the 2011 demonstrations in Egypt's Tahrir Square that brought down longtime ruler Hosni Mubarak, but it was rough treatment by the country's new transitional military authorities that really traumatized the 25-year-old political activist.
"You know how they arrested me?" she asked me through a translator, recalling a particularly brutal March 9, 2011 government attack on protesters that was condemned by Human Rights Watch.
"They pulled me from my hair," she told our group of young female GlobalPost journalists. "They dragged me on the ground, and my stomach was kind of showing."
But Egypt's military officers, it turned out, wanted to see a lot more than her stomach.
At a military detention center days later, Ibrahim and other female detainees were subjected to so-called "virginity tests," a primitive medical procedure in which women are forcefully penetrated for hymeneal blood believed to establish virginity.
"He had his hand stuck in me for about five minutes," Ibrahim said. "He made me lose my virginity. Every time I think of this, I don't know what to tell you. I feel awful. I don't know how to describe it to you. I know that to violate a woman in that way was considered rape," she said. "I felt like I had been raped."
Ibrahim was the only victim who brought the incident to the attention of Egyptian courts, which resulted in a December ruling banning the Army from using the invasive, medically dubious practice on female detainees.
The decision, hailed as a rare triumph for Egypt's rights community, made Ibrahim famous in Egypt. But the euphoria didn't last long. Recently, a military court decision dismissed Ibrahim's separate case against the officer she says administered the test in a blow to the women's rights community there.
Women in Egypt face widespread sexual abuse and violence. In December, a female protester wearing the abaya, a traditional long black cloak worn by many pious Muslim women, was so violently beaten by Egyptian authorities that her torso and blue bra were publicly exposed in an incident that sparked widespread outrage. Footage of the so-called "blue bra" girl, caught on cell phone cameras, made world headlines as just another reminder of the struggles women there face.
Meanwhile, the success of the ultra-conservative Islamic Salafi party in Egypt's recent parliamentary elections, a party that traditionally believes a women's place is only in the home, does not bode well for their participation in the country's nascent democracy. But whatever happens politically, human rights issues will continue to be sidelined unless a corresponding societal revolution takes place in these nations. A "revolution of mind", as Egyptian feminist author Mona El-Tahawy has termed it. In other words, a revolution is needed from the bottom up – a movement that will slowly recast gender roles, work to change discriminatory sexual practices, and reconstitute spousal behavior in the home.
While underreporting of sexual assault and rape by women is a global phenomenon, women in the Middle East are particularly tempted to remain silent in the face of abuse. A woman's honor is directly related to her virginity in Islamic societies. Therefore, anything that interferes with that – even if the woman herself is not at fault – can become a liability for herself and her family.
Consequently, violations against women are hugely underreported in countries like Egypt, where a 2003 report found as many as 98% of rape and sexual assault cases are not disclosed to authorities. A 2008 survey revealed that over 80% of Egyptian women report being sexually harassed, while 46% say they experience it on a daily basis.
For many abused women in these societies, social taboos and safety fears prevent them from seeking help, while those raised in traditional homes are commonly brought up not to question male behavior towards them. A staggering 70 percent of women in Egypt said a husband is "justified" in beating his wife for refusing sex, one 1995 study found. Many of these women were denied equal educational opportunities and reared in religious homes that inculcated an expectation of unequal or abusive treatment. Yet trends appear to be shifting – only 34 percent agreed to that statement when asked in 2005.
The Internet may be helping change the tide. "No one stained my honor," Ibrahim wrote on her Twitter account after her most recent case was dismissed, reported the Associated Press. "The one that had her honor stained is Egypt. I will carry on until I restore Egypt's rights."
International Women's Day 2012 could be remembered as the year a societal revolution began in earnest. To do so means ensuring education for girls and women in these societies; it means demanding true protection from security forces; it means punishing criminal behavior irrespective of the sex of those involved; it means establishing hotlines for abuse and providing anonymous legal options for victims; it means challenging the way young men are taught to treat women; finally, it hinges on critical legal reforms, including further debate within Islamic jurisprudence as to the role of women under Sharia, or Islamic law.
For Samira Ibrahim, it meant taking the witness stand.
But that's not the Samira Ibrahim that I had the honor to meet last fall. The Samira Ibrahim I met was just one girl out of hundreds of female protesters that had been cruelly targeted by Egyptian authorities.
"I've been wearing a swimming suit under my clothes," Ibrahim told me at the time, explaining it was so that if police forces ever try to beat her and strip the clothes off her body again, reaching her naked body easily "won't happen."
Leave it to her to bring swimsuits and sexual revolutions together.
Tags: arab spring, Domestic abuse, egypt, Gender rights, human rights, Sexual abuse