Tackling Nigeria's Beast of Child Marriages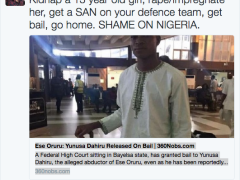 In March, social media woke up to a really startling story: a young girl, a 13-year-old child that had been kidnapped from Bayelsa, taken to Kano state, rechristened Aisha in an apparent conversion to Islam, and married off to a young man. The girl? Ese Oruru. The man? Yunusa Dahiru, aka Yellow.
The contradictory reports in the media were as frustrating as they were ridiculous. First, it was said that she was eighteen, despite her family's cries to the press to the contrary. Then the poor child was demonized, something about her dating the man, writing him love letters, and being in love with him, like the word of a child on those matters should be acknowledged. Then it was back to the arguments about her age again, and how she was 14 years old and not 13. On and on and on, splashing her face in the papers, in the hearts and minds of Nigerians that choose, very conveniently what to forget, and what to remember and stigmatize others by.
Interestingly, while this was going on, a number of other parents cried out about their teenage daughters getting abducted, married off and raped. Yes, rape because that is what this is. Non-consensual intercourse is rape, compounded in these cases by abduction, and of minors.
Back to Ese Oruru, we were confused with the back and forth that freeing the girl and returning her to her parents threw up. A lot of conversations between her not getting released till His Royal Highness, Sanusi Lamido Sanusi gave instructions to that effect because she was in his custody, the Royal's swift denial, convoluted messaging from the police, on and on.
Amidst hashtags, commentary in the press and extreme pressure on the consciences and sensibilities of people involved in the matter, Ese Oruru was finally returned to her parents, Bayelsa in March 2016; seven months after her abduction, and recently gave birth to a baby girl. A baby birthing a baby, rife with the risk of fistula (VVF), and the total disruption of her life as we know it.
Yunusa Dahiru was charged in court too with criminal abduction, inducing by the use of deception and coercion, illicit sex, sexual exploitation and unlawful carnal knowledge of a minor.
On July 11, the country woke up to reports th of Yunusa, with expensive legal representation, having been released on bail and whisked back to Kano. The news story was garnished with a photo of this suspected abductor and rapist at the airport. The end, literally.
Some responses came back on how long it took for the alleged abduction and rapist to get bail, the constitution and laws being the problem, rape being a bailable offence, the quality of our laws and the attendant handicap of the judiciary etc.
There were also less sane responses about Ese's case not being a peculiarity because underage girls get abducted and raped daily, it took three months to secure bail, and then of course the ultimate expressions of ignorance couched as insults or the representation of the matter based on ethnic sentiments.
Both sets of responses ignore the fact that we're talking about a child. Both responses ignore the fact this case already stinks to high heaven. They ignore the fact that by not speedily prosecuting this case, securing a watertight conviction, and dispensing punishment that is a deterrent to potential offenders, we have lost yet another opportunity to protect our children. We keep failing them.
I have written about child molestation, rape and other crimes against minors before, taking time to narrate not just the horrors the children have faced, but the helplessness the parent feel, and the stark failures of our systems to mete justice.
We have a Child Right Acts that took 12 years (1991 – 2003 after Nigeria signed the convention on the Rights of the child with UNICEF support) to go through the National Assembly, and more than 10 years after that, only 24 states have passed and given gubernatorial assent to the law in their states. That means that our children, the most vulnerable in our society, left unprotected and we do not feel any sense of urgency. Implementation aside, it means that the appropriate legal framework for the protection of the rights of our little ones is still a pipe dream. There is no urgency from the Judiciary or the Legislature whose job is it to empower the courts.
Unfortunately, this sad story probably ends here, and this statement is based entirely on precedent. No rehabilitation for Ese, no clear deterrents for the society because we don't protect our children. No justice because we have a National Assembly that is filled with self-serving paedophiles who do not agree that people under 18 are children and so will scuttle privately and in public any plans to protect them. A National Assembly with officials who will uphold anything other than the laws they were elected to (and swore to) protect.
While Gambia and Tanzania ban child marriages, Ghana considers raising the age for marriage for girls from 18 to 23; we have popular commentary in Nigeria that posits that child marriage is the preferable, dignified and honourable alternative to child prostitution. The Giant of Africa lagging behind where it matters the most.
We can do better. We must do better. This 8th National Assembly has the opportunity to write its name in the annals of history, and we hope they take it.
Tags: Africa, child marriage, child molestation, Child Not Bride, Child Rights Act, Criminal abduction, Ese Oruru, Free Ese Oruru, Gambia, Inducing by the use of deception and coercion, Islam, Nigeria, Sani Yerima, Sexual exploitation, Tanzania, Unlawful carnal knowledge of a minor., Yunusa Dahiru