The Abandoned Park in Gyumri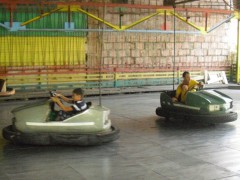 We were the only family getting the tickets for "autorally" at Gyumri's City Park – an all time favorite attraction for Gyumri kids for decades. I remember the days when as a kid I had to stand in the line for 15-20 minutes to get on the little electric car…
"Where are all the kids?" I asked at the ticket counter.
"It's like this now, few people come to the park and even fewer buy the tickets," the fat lady responded from behind the freshly painted bars of the counter.
We bought two tickets and drove for 5 minutes. For 5 minutes the sound of a working attraction filled the area. It was the only thing working…
Very few of my friends live in Gyumri now. There were 5 of us growing up on our street. One died in a tragic accident, 2 are in Russia, 1 is in the Netherlands and I'm in Yerevan. Some of us have kids. Those kids only ride the merry-go-rounds in Gyumri's parks when we come to visit parents.
Gyumri – Armenia's second largest city and a Soviet-time industrial power house – is suffering stagnation and poverty these days. Young people escape from towering unemployment rate which is one of the highest in Armenia and try their luck elsewhere – mainly in Russia, Europe and the United States.
I'm taking it easy… even though I occasionally have a fit of despair or two… I'm taking it easy, because I only see the abandoned city once or twice a year.
Remittances account for 13-14% of Armenia's GDP
The latest data from Armenia's Central Bank show that the total amount of incoming cash transfers processed by local commercial banks rose by as much as 26.5 percent to $493.2 million in the first half of 2011. And 87.2 % of these transfers are received from the Russian Federation.
Annually, about 60,000 labor migrants go to seek jobs in Russia, mainly in the construction
industry.
The multimillion-dollar remittances have long been a major source of income for a considerable part of Armenia's population. A rapid rise in their volume contributed to a double-digit growth of the Armenian economy, which came to an end with the outbreak of the global recession in late 2008.
Economic growth in the country resumed in 2010 amid an almost 14 percent rise in remittances. According to the Central Bank, they totaled $1.3 billion, equivalent to over 13-14 percent of Gross Domestic Product.
To put it simply, this country won't survive without its labour migrants…
But I'm looking at the freshly renovated park in Gyumri and thinking… There are no kids playing here.
While men spend months and years in Russia, there's no younger generation to build the future here. Many of the strong and energetic choose to stay there where they have jobs and opportunities, some lead double lives with double families – one wife in Armenia, another one in Russia. Some give up on their home country and never come back.
And the park in Gyumri stays freshly painted, unused, waiting…
Tags: Armenia, cash back, remittances, youth