The Global Economic Symposium 2014 seeks solutions in Kuala Lumpur, Malaysia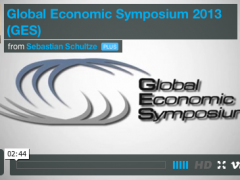 Restructuring Economies, Transforming Societies
Over the past few decades, the world has embarked on a course that is unsustainable, inequitable and inadequate in terms of
environmental degradation, depletion of natural resources, and transfers between and within generations;
income and wealth distribution;
global governance.
Overcoming these problems requires us to restructure our economies to promote effective and sustainable growth, and transform our social practices to balance the pursuit of financial wealth with recognition of the value of equity, community and the quality of life.
Global Economic Symposium 2013 (GES) from Sebastian Schultze on Vimeo.
The Global Economic Symposium (GES) is meant to give a new impetus on this. It initiates a strategic dialogue between leaders from the worlds of academia, business, politics and civil society incorporating the findings of recent research.
The GES aims to build communities to come up with concrete action plans, business strategies, civil initiatives and research agenda. It is an absolutely inspiring atmosphere when approximately 600 international decision makers from different paths of life / professions, countries and cultures come together and exchange their ideas and knowledge to develop solutions on current global problems.
This year's GES takes place from September 6 to 8, 2014 in Kuala Lumpur!
…………………………………………………………………..
Find the GES online
Homepage:        www.global-economic-symposium.org
Twitter:               twitter.com/the_GES
Facebook:          www.facebook.com/Global.Economic.Symposium
Youtube:             www.youtube.com/GESOfficialAccount
Tags: free trade, globalization, inequality, TTIP