The Greater We: The Mo Ibrahim Index of African Governance and Africa's Youth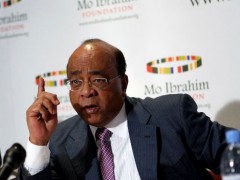 The World Bank defines governance as "the exercise of political authority and the use of institutional resources to manage society's problems and affairs." As we move forward in the second decade of the 21st century, the question of good governance is particularly important.
Defining good governance (a nebulous term) as human development and fair, transparent, participatory management of state resources, it is fair to say that good governance ought to encompass the issues faced by today's youth. This is especially true for Africa, where 65 percent of the population is below the age of 24, compared to the average age of African heads of state- just over 72.
The Mo Ibrahim Foundation was founded by Mohammed Ibrahim, a British Sudanese-born mobile communications entrepreneur and billionaire, in 2006. The goal of the Mo Ibrahim Foundation is to support good governance and leadership in Africa. One method of incentivizing good governance among African leaders is the Mo Ibrahim Achievement in African Leadership, gives $5 million lump sum payment, plus a $200,000 annual payment for life to African heads of state work toward the social (security, health, education) and economic development of their nation and democratically transfer power to their successors.
The inaugural winner of the Mo Ibrahim Achievement in African Leadership award was Mozambique's Joaquim Chissano, who served as president for 19 years before declining to run for a third term in 2004. This year's winner was Pedro Verona Pires, President of Cape Verde from 2001-2010. The cited reason for his win was his role in making Cape Verde a "model of democracy, stability and increased prosperity."
The Mo Ibrahim Index of African Governance looks at 1) Safety and Rule of Law 2) Participation and Human Rights 3) Sustainable Economic Opportunity 4) Human Development. Because the Mo Ibrahim Foundation's definition of governance is so broad and dependent upon what citizens can demand from their respective states, the proxy indicators and data vary widely. (Methodology) It is a composite index that uses 86 proxy indicators to measure governance. These indicators are based upon standardized datasets from 23 third-party organizations.
Among these organizations are the AfDB (African Development Bank), Bertelsmann Foundation, and the IMF (International Monetary Fund) . The nations of Africa were ranked from 1 to 53 (the data was based on the past 10 years, so it excludes the newly independent nation of South Sudan). The nations at the top were Mauritius, Cape Verde, Botwana, Seychelles, and South Africa. The bottom 5 were Sudan, the Democratic Republic of the Congo, Zimbabwe, Chad, and Somalia.
The release of the 2011 Mo Ibrahim Index of African Governance has already drawn criticism. A piece in Forbes charged Mo Ibrahim with "squandering" his wealth on African leaders, and challenged him to invest in youth leaders rather than in outgoing African leaders. A 2007 article in Pambazuka entitled "The Mo Ibrahim Prize: Robbing Peter to pay Paul" raises the point that "good governance" is collective, whereas the Mo Ibrahim Foundation's achievement award rewards individual African heads of state.
Furthermore, the article points out the flaw in calling a sum of $5 million spread out over ten years and an annual sum of $200,000 for the rest of one's lifetime a sufficient incentive toward good governance. If greed and corruption are antithetical to good governance, does $5 million and a guarantee of $200,000 per year for the remainder of one's lifetime incentivize good governance? On a continent where socio-economic inequality is often masked by macroeconomic growth indicators, giving money to long-standing heads of state is not a solution.
How does one define and measure "good governance" in universal terms? Can we move toward a "Greater We" in global governance if we do not address the issues that face youth and invest in youth leaders?
Tags: Africa, African Development Bank, African Leadership, Mo Ibrahim, Mo Ibrahim Foundation, world bank