The higher the expectations, the deeper the disappointment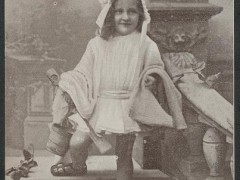 The beauty of childhood is its lack of expectations
Photo credit: Powerhouse Museum Collection
Every year, on the 25th of December, everybody in Romania celebrates Christmas. But some Romanians also use the occasion to commemorate the former communist president, Nicoale Ceaușescu. They gather at the Ghencea Cemetry and in front of running cameras they regurgitate the same old story about how life was so much better back then when everyone had a job, a home and enough money to live on without any worries. The state, which wore the face of the regretted leader, took care of all its "babies", no matter what their age. And this is what these people miss: someone to take care of them with the same devotion, someone to protect them and guide their footsteps every step of the way.
But times are changed and the state seems to have sent all its "children" into foster care. Everybody learns to care for themselves and just like  in Darwinian theory, only the fittest survive. The state is now a parent who has changed their strategy from limitless protection to a kind of DIY approach. The changeabout  has been so radical that when asked a question such as what do I expect from the state, I can only smile and wonder who out there, in my generation at least, has the least shred of expectation that the state will do anything for them.
I have never even thought about what I want from the Romanian state. Expect nothing, that is my policy when it comes to the matter. Had I depended on what the state might promise, I would never have done anything. As I grew up, the experiences I made taught me that the only reliable person I can count on is myself. And this is what I have done ever since. In a previous post I wrote about the taxes people pay for medical healthcare and the lack of benefits they encounter when they actually come to use the service. This is just one simple and blunt example of an essential domain where the state should coordinate everything flawlessly. And yet the system is so bad and so deeply flawed that any down-to-earth person will realise instantly how childish it is to have any hope for change..
I have no expectations about the state, but I do have expectations about myself. To be hardworking and aware that I am responsible for how I pave my own way. I do not deny the importance of the state and its role in aspects of life such as education, healthcare and justice, but I have have zero expectations at the present time that it can do anything for me or anyone else.
To end on a rock and roll note, you know it's sad but true, as Metallica puts it.
Tags: Central and Eastern Europe, citizen expectations, post-communism, romania, social contract, welfare state