The Intervention: From Dreamtime to Nightmare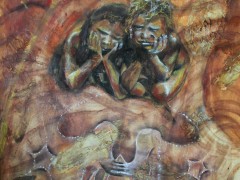 "You cannot drive change into a community and unload it off the back of a truck. That is the lesson of the Intervention."
—Northern Territory Emergency Response Review Report, 13 October 2008, p58
In 2007, the Australian federal government called in the military to intervene in the Northern Territory to "protect Aboriginal children" from sexual abuse, known as the Northern Territory Emergency Response (NTER). Without consultation, Aboriginal peoples' lives were heavily regulated, and many felt ashamed and angry. The Intervention is but one example of the troubled relationship between the state and its indigenous citizens. 225 years since colonisation, it is disheartening to realise that the Government's relationship with Aboriginal people is still based on dominance and distrust. Despite wide-spread protests, the intervention continues and has been extended until 2022.
What is the NTER?
In August 2006 the Northern Territory government commissioned research into allegations of serious sexual abuse of children in Aboriginal communities. On 15 June 2007 the commission released a report titled Little Children are Sacred. Less than a fortnight after its publication, on 23 June 2007, the federal government ordered the military into the Northern Territory, calling it the 'Northern Territory Emergency Response (NTER)', known more commonly as 'the intervention.'
As part of the intervention, the government:
Analysis: has it been effective?
Despite being supposedly aimed at addressing sexual abuse of children, the  NT Emergency Response Act does not mention the word 'child' or 'children' even once throughout its hundreds of pages. On the other hand, the Act has plenty of references to land, which many Aboriginal leaders see as a land grab making it easier for miners to access Aboriginal land. Moreover, the government did not properly consult with Aboriginal people, reminding Aboriginal people of mission days when "white" people had dictatorial powers over almost every aspect of their lives.
We were not consulted; the intervention disregards Yolngu governance and law as if it was never there; […] it disrespects our land rights, our culture and our rights as human beings.
—Raymattja Marika-Mununggiritj, Co-Director Mulka Multimedia Centre, Yirrkala, NT
In 2010, UN Special Rapporteur on Rights of Indigenous Persons, Professor James Anaya, found the intervention breached Australia's international obligations in upholding the rights of indigenous persons.
The intervention is but one of many examples of "top-down" development interventions that have dominated the history of the relationship between the state and Aboriginal citizens. In the National Indigenous Times (14 May 2009, p. 31) it has been described as part of "a real tradition in Australian culture of blaming the victim when it comes to Indigenous people. People want to do something so they jump in and make all sorts of top-down decisions. But this 'solution' compounds the problem and sends a very powerful message to Indigenous people which says that 'you are no good, you can't sort out your problems, you need us to do it.'" Consequently, Aboriginal communities continue to have power taken from their hands and are denied the opportunity to take control of their own futures and destinies.
According to the report Closing the Gap in the Northern Territory, 2 years after the NTER began, reports of domestic violence rose 61% (possibly due to higher police presence), while imprisonment and suicide rates also increased.
Aboriginal communities reported more unemployment following the closure of the Community Development Employment Program. Moreover, no so-called "paedophile rings" were found. Despite fierce resistance and a petition with 43,000 signatures, however, both government and opposition passed the "Stronger Futures" legislation, extending the Northern Territory intervention for another 10 years.
What's desperately needed is a commitment to respecting the rights and self-determination of Aboriginal nations.
As highlighted by UN Special Rapporteur on the Rights of Indigenous Peoples:
Homelands are widely understood to have lower levels of social problems, such as domestic violence and substance abuse, than more populated communities. According to reports, the health of Indigenous people living on homelands is significantly better than of those living in larger communities. Homelands are also used effectively as part of substance abuse and other abuse and other programmes for at-risk Aboriginal youth living in more populated or urban centres.
What should Aboriginal citizens expect from their government in the future?
According to Amnesty International, the government has an obligation to uphold the rights of indigenous peoples by facilitating their active participation in the design, delivery and control of community services, including those addressing child safety and welfare. Moreover, homelands (traditional lands) must be part of any strategy aimed at improving community health and well-being, as research shows Aboriginal people lead healthier and longer lives on homelands. For it is only when the government establishes a relationship of accountability, trust and genuine cooperation with all of its citizens that the "First Australians" will finally be able to re-capture control of their dreams and destinies.
Tags: Aboriginal self-determination, child health and safety, community development, Governance, homelands, Stronger Futures legislation