The lady in the pictures: distant mothers, successful professionals and burnout syndrome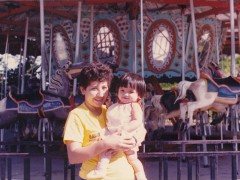 My friends find it hard to believe that I have no childhood memories of my mother. Sure there are pictures in her photo albums that prove that she was indeed around while I was a child. But even though I've tried to look deep into my mind, I just can't find her in my early memories.  I've  seen photos of a young woman in her medical scrubs and her nurse's uniform smiling to the camera, supposedly smiling at me. I see them and I feel nothing. The woman in the pictures is just a nurse, a medical student; it never feels like I'm seeing my mother.
I can, however, hear her voice. There's one clear memory of me and my father walking down to a pay phone to call her medical unit, which was at the time trapped in combat on a volcano near San Salvador (the capital city of El Salvador). It was 1991, I was four years old and we were a country at war. That's my only clear memory of me knowing that I had a mother while I was a small child: she was there, I was told, but she used to get home really late at night and would leave very early in the morning. She was, at best, the echo of a voice talking to my dad over the phone.
Years went by and both the Peace Accords (1992) and my siblings (1995, 1998) came along. By 1999, the smiley lady in the snapshots was now no longer a rural nurse (making about $150 a month) but a surgical nurse (making $350 a month) who would come home (sometimes) to raise three kids as she did  chores and took care of the housekeeping and helped with homework and had an abusive and alcoholic husband and a really quiet firstborn who didn't really know how that lady could handle all that she had on her plate. She would get very little sleep. She was tired all the time. She would, however, get up very early every day, get made-up and walk out of the house on her really high heels with her really red lips, dragging two toddlers around while her drunk husband lay on the bed and her pre-teen firstborn watched her from afar, astonished by her strength.
One day she decided to go back to school and get divorced. She would take double shifts at the hospital to make up for her long-departed husband's salary and go to school at night, then come home, put her kids to bed and pull up all-nighters four days a week. Her grades were perfect. Her performance at work was perfect. She was perfect. Once she got her degree she was able to triple her salary when promoted to a new position. Money per se was never her goal, she just wanted to make sure me and my siblings got the best education she could afford. That was, and still is, her only goal. However, she was unable to communicate with me. She was, once again, nothing but the  smiley lady in the snapshots. Only this time the feeling that she was smiling at someone who wasn't really me grew far too deep. It would never go away.
She had the worst migraines I have ever seen (and I am a migraine connoiseur. Ouch.) as stress finally took its toll. She was always exhausted, always cranky, but she never allowed herself to slow down or rest.  She was supposed to be all these things: a great professional, a great woman, a great mother, and eventually a great medical professional. When she was confronted with the fact that she had to provide for her kids by herself, she decided to do so in a way that we didn't just have enough, but we had everything we could possibly need. That's what she'd seen. That's what she'd been told. She ought to be perfect.  Back in her early twenties she got involved in student movements and learned everything there was to know about second-wave feminism: a woman could do it all. Somehow she herself and various other women from her generation and the next ones misread that credo and believed that not only could they do it all, but they ought to do it all.
Other women from her generation are deeply exhausted as well. I've seen my mother's friends, I've talked to them: I've heard how they wished they'd travelled  abroad or had time to sleep or could go back to school. More importantly, I've been shocked about how quickly they seem to jump back on their feet and claim that they love their kids and wouldn't change them for anything in the world, as if wanting things for themselves, as if being individuals with desires and dreams was the only thing they weren't allowed to do, to be. I have also seen them be ruthless to those women who chose not to have children and focus their energy on their careers. Mules, they call them.  They seem to forget how exhausting it is to deal with a newborn, how they would put metoclopramide (a popular vomit medication that makes people groggy and sleepy) in their children's bottles so they would go to bed and they could finally get some sleep. Not trying to do it all was a sin to them, apparently.
The smiley lady in the picture broke down shortly after an earthquake in 2001. She had an anxiety attack, post-traumatic stress and was admitted to a psychiatric hospital with severe exhaustion. She adamantly refused to speak with a psychiatrist, claiming she wasn't insane. The doctor, another forty-something smiley lady like herself, came up to me and interviewed me instead about my mother's behaviour at work and at home. She diagnosed my mother, like many others of her generation working in the medical field, as silently and unknowingly suffering from  spillover effect, usually related to the burnout syndrome.  My mother was always upset and cranky and sleepy as a result of severe exhaustion, but she couldn't afford to slow down. Not in her profession.  Slowing down, taking time off, inmediately means a lower pay grade and less oportunities for promotion which was not an option for her then and isn't an option for her now. Plus, being the scientist that she is, and given that both burnout syndrome and spillover effect and their occurance in working mothers has not been studied in depth, she still refuses to believe this is what has happened to her. "It's not been proven", she said. She checked herself out of the hospital the next day and went straight back to work. She never phoned home to let me and my siblings know. As long as we attended private schools and had everything we need, we didn't really need to know anything else. That's what I guess she thought.
I've never been able to establish an emotional connection with my mother. The only emotion she allows herself to have in front of me is anger, furious anger. She used to try to bond with me over chemistry and medicine, in lengthy discussions on diseases and physiology, but I can't talk to her about anything but science. She's as distant and cold as the memories I don't have of her. I can only imagine how hard it must be for her to have two artists and a philosopher as her children. We've never had a relationship. I left her house almost a year ago and we have not spoken since. I have no way of knowing for sure how she feels, but I didn't have one before either.
However, I love having her picture in this post. I could see her smile all day long. I could stare at that picture forever and wallow over how much I wished her image would make me feel at home or safe or loved. The truth is that it doesn't. She's just a smiley lady in a snapshot who smiles as she holds me, but she didn't really know who I was and I still don't know who she is. It would be very easy to blame her ambition or her unsettling intelligence, but being that I am as ambitious as her, that would be quite stupid of me. I cannot blame her for wanting to have it all. I can, however, be thankful that she showed me that I can take my pick. I acknowledge her strength and her brains. I would, however, give anything to know who she is.
Tags: burnout syndrome, El Salvador, feminism, medical professionals, spillover effect, working women