The Myth of Inclusive Growth through International Loans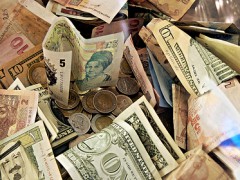 If we know that the benefits of growth do not automatically trickle down to generate more equal societies, we need to adopt a new inclusive approach to policymaking that looks at the social as well as the economic effect of policy actions. – OECD
Allah Baksh pushes his laden handcart across Murree Road towards the weekly market near Nawaz Sharif Park. He does this every week, delivering fruits and vegetables to the "Sasta Bazar" (cheap market) on Murree Road, Rawalpindi.
The Mohammad Shahbaz Sharif (MSS) Flyover, which cuts over the intersection between Sixth Road and Murree Road, starts a few steps ahead of the public park. Prior to its construction, Murree Road was a place most people dreaded due to congested traffic movement. Today, however, the road is less crowded and traffic movement is more or less smooth. But how has this helped people like Allah Baksh?
"I don't know how this bridge was supposed to help me. I still go home with money that isn't enough for my family's needs," he says. People like Allah Baksh look up at the wonders of the technology their government is building and watch other people's children shopping for new Eid clothes every year and wonder.
"All this tarraqi (progress) is not for us?" he asks. "That bridge, government providing laptops to college students and scooties to the girls, how is all this going to help me feed my family? Do you know the price of daal (lentils) is as high as chicken? What's a poor man to do?"
I suppose the concept of "inclusive growth" would be quite lost on people like Allah Baksh considering they have never experienced the "trickle down" effect of national growth and development so ostentatiously stated in most poverty reduction policy papers and development frameworks.
One could present an endless list of policies and frameworks devised, on paper, to be excellent principles for ensuring inclusive growth in Pakistan. For example:
But the actual situation shows that very little, if anything, has actually been achieved.
The World Bank and Commission on Growth and Development (CGD) described growth and social development as follows:
Growth is not an end in itself. But it makes it possible to achieve other important objectives of individuals and societies. It can spare people en masse from poverty and drudgery. Nothing else ever has. It also creates the resources to support health care, education, and the other Millennium Development Goals to which the world has committed itself. In short, we take the view that growth is a necessary, if not sufficient, condition for broader development, enlarging the scope for individuals to be productive and creative.
While Pakistan has no dearth of donors when it comes to supporting inclusive growth and development, the people of the country are often left wondering: "Where did all the money go?"
The problem is that foreign donations always come with a catch. The World Bank, for example, has delayed its promised loan until its "conditions are met." Pakistan had hoped this loan would help the foreign currency reserves of the State Bank of Pakistan, which had sunk to $4.299 billion as of August 2013. While these "conditions" include increasing electricity prices, they have far greater implications.
As described in the Express Tribune:
The World Bank, unlike the past, stretched the conditions as wide as corporatisation of power generation and distribution companies and restructuring of National Electric Power Regulatory Authority, officials said. The government will also have to show tangible results on the condition of eliminating causes of the circular debt that has again piled up, despite the government paying Rs480 billion in June this year.
Loans from international donors like IMF and World Bank, while intended to assist in implementing policies for inclusive growth, do not achieve their purpose due to their tendency to bring more inflation, economic instability, and unemployment to the country.
Simply stated, the conditions for receiving an international loan actually increase the divide between the rich and the poor considering that the money is never spent on what it was meant for and the Pakistani people are left floundering under the barrage of IMF and World Bank demands.
Therefore, while the government is trying its best to get the World Bank loan approved, its very approval will mean an unprecedented increase in inflation, which will further lower the spending power of the common man.
Allah Baksh, and everyone like him, will continue to pay taxes that will never be used for his welfare.
Tags: IMF, inclusive growth, international loans, loans, pakistan, sustainability, world bank