The Net Effect: For Wired Migrants, It's Often Home "Tweet" Home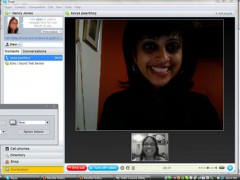 Carl Rana, like many only children, is pointedly self-assured.
"My mother would not know how to use a computer if I didn't, like, tell her all how to use it," the 20-year-old Filipino-American said, adding, "we're impatient with our parents, it takes a while for them to learn, and we always have to repeat things over, and over again."
He grinned indulgently and conceded, "but when they finally get it, they become enamored with it."
Thanks to Rana's guidance, his mother was soon one of millions hooked on Skype, which she says she uses "almost every day" to call her family in the Philippines.
It's a scene that's been repeating itself in countless immigrant homes, and not without consequence. The rise of the Internet has been revolutionary for the world's ballooning migrant sector, a population that in total today would constitute the fifth most populous nation in the world.
For a growing number of these tech-savvy immigrants, home-away-from-home is a computer or mobile phone over an adopted country. The tech education implicit in this development is significant – while affording them a whole new world of employment opportunities, it has also radically changed the assimilation process.
Sharmaine Oh, from Singapore and now an international student at Tufts University in the United States, told FutureChallenges that as an immigrant, new technology can work both for and against you. "Whether it is skype, jajah, gchat, google voice, oovoo- with some simple downloading- the ease of communicating with a loved one is far improved," she wrote in an e-mail interview.
Oh's parents, who were international students in Britain, had to rely on "weekly calls that were often too expensive to have and the pace of communication was much slower," according to Oh.
All that's great. But frequent communication with one's home country can also impede integration, inviting nostalgia, even self-imposed isolation.
"I know that technology for me has often been somewhat of a crutch," Oh wrote, adding, "I love maintaining conversations with people back home, but then sometimes I feel that technology doesn't allow me to fully immerse myself in a completely new environment and allow me to be completely vulnerable to being 'affected'- the decision to be present in this overseas environment becomes a harder one with technology."
Indeed, resettlement for these far-flung people – from fortune-seekers to refugees — has been forever changed by the digital era, and their engagement with technology is now on par with that of many nations thanks to the sheer number of migrants, which has more than doubled over the past 25 years to over 200 million people. Many of them, these days, are "wired." Even struggling immigrant workers can now afford to access the web in many parts of the world. People are so desperate to get online in New York City's immigrant-heavy Bronx borough, for example, that they line up for blocks in order to pay for the connection in cash, presumably because they lack documentation or finances to do it otherwise.
Sharmaine Poh, also a Tufts student from Singapore, believes "technology acts as somewhat of a leveler," in terms of the class barriers immigrants can face, "because the web acts as a portal where the public can learn the tools or gain the knowledge they need," citing "countless tutorials on anything from photography to how to maintain a successful Twitter feed."
Rana, for example, taught himself his parents' local Ilocano dialect by watching YouTube videos to practice vocabulary with them. The young man, who runs the Filipino student club at Fordham University in New York, is in this way the prototype "digital native," a term used to describe the generation born to the computer revolution of the 1980s.
These digital natives have benefitted enormously from the rise of technology. But not every migrant is connecting with relatives abroad via Skype on his or her gleaming new MacBook Pro.
Camilla Hawthorne, the digital media manager for Radio Free Europe/Radio Liberty (disclaimer: the author's former employer), a US-funded multimedia organization that broadcasts into countries that lack a fully free press, including Russia, Central Asia, and much of the Middle East, told FutureChallenges that in many developing nations, mobile phone culture is critical.
"The problem is there's still such huge divides between the kinds of technology an eight-year-old kid in Afghanistan is exposed to, and the eight-year-old kid growing up… playing with an iPad," she said.
But in today's ever more-connected information world, even a mobile phone can inspire people who might not otherwise leave their home countries to pack up in search of a better life. "Just being aware of a world that's wider than, say, the village you grew up in will ultimately have some positive effect and maybe inspire people to learn more, or to learn more skills, or to travel," Hawthorne said.
Human rights organizations have caught onto exactly that. In New Zealand, a computer-training program called "Computers in Homes" went from servicing low-income families to specifically targeting refugee families. The organization said it started "Refugee Computers In Homes" because it found that technology was a key factor in improved integration.
Di Das, the program's New Zealand coordinator, said in an email interview with FutureChallenges that the focus now is "teenage children, as there is such a short window of time to engage them in education and equip them with work skills before they reach leaving age." Her comments reflect the growing importance of digital skills in today's global labor market.
Many of the refugees Das works with are Indigenous Maori — that is, native New Zealanders — or immigrant Pacifica. They come from desperate backgrounds and many are likely to know very little, if anything, about computers. But the fact that such a program exists speaks to technology's growing role in the assimilation process.
Thanks to such programs, refugees are being introduced to the same virtual world as Carl's mother half a world away in New York City. But the 55-year-old Filipina says she was unprepared for the Internet revolution, despite living in the States. "I did not expect many of these technological advances to come out and allow me to connect with my family on such a closer level," she wrote in an email interview. "With Skype, I do not feel the need to go home. I call my family almost every day and feel like I'm with them."
For immigrants like her, the Internet's fast becoming home "tweet" home.
Tags: immigration, internet, Mobile technology, Skype