The New City: Kenya's Konza Technology City & Lessons from Other Planned Cities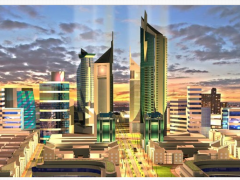 The permanent secretary of Kenya's Ministry of Information, Dr. Bitange Ndemo has planned Konza City, which will be built on a 2,000 hectare plot of land 60 kilometers from Nairobi. This project is part of "Kenya Vision 2030"-  a development blueprint which aims to "middle-income country providing a high quality life to all its citizens by the year 2030." Currently, the government of Kenya is searching for a master developer, and investors. Konza City is modeled after Silicon Valley in Northern California (US), with the aim of attracting technology companies, innovative thinkers and entrepreneurs in order to further establish Kenya's Information and Communications Technology (ICT) industry.
A scale-model of Konza City sits on Dr. Ndemo's desk. It displays the international financial district, office buildings, manufacturing plants, housing developments, schools, churches, mosques- and even an artificial river, which would serve as a water source to the "Silicon Savannah."  The project would take about 20 years to complete, and cost about $10 billion ($1 billion of which would be provided by the Kenyan government).
Konza City would join a list of planned cities in Africa that includes Gaborone, Botswana's largest city, located along the Notwane River, home to 10 percent of the nation's population. Gaborone, recognized as one of the world's fastest growing cities, is where the Southern African Development Community (SADC) headquarters are located.
Also, on this list is Yamoussoukro, Ivory Coast's official capital, and Abuja, Nigeria's capital city and Economic Community of West African States (ECOWAS) headquarters. In East Africa, Konza City joins Raphta City, Tanzania, an ICT park in Dar es Salaam. Globally, Konza City also joins Abu Dhabi in the United Arab Emirates and Shenzhen City, China- both planned cities that serve industry.
The question of Konza City's ecological sustainability has been raised- especially in regard to its location in the savanna, a transitional area between the rainforest and the arid steppe. As we've seen in China, a proliferation of planned cities has left what has been called "forests of skyscrapers" where there are no buyers for over 64 million empty housing units. Planned cities do not necessarily guarantee urban population growth or investment.
In this sense, Brasília, the federal capital of Brazil, was a failed planned city. Built in 41 months between 1956 and 1960, Brasília fell short of its planners' expectations and resulted in 2 billion USD in debt. The city was designed for unrestricted automobile movement (thus no street corners for pedestrians) and the city's roads are largely superhighways. Because Brasília is so compartmentalized and unwalkable, residents complain of not being able to organically meet one another for leisure- an essential factor to city life. With this example, I add that planned cities do not guarantee urban workers and dwellers a satisfactory experience.
Furthermore, Kenya's ongoing water shortage, largely due to mismanagement, and flawed water rationing, has affected Kenyans in rural areas as well as Kenya's urban dwellers. In the aftermath of the 2008 post-election violence, two of the Kenya's central hydro-electricity power plants at Masinga and Kiambere were shut down due to inadequate water for electricity generation. Additionally, there have been problems with the provision of safe water. To the north in the Turkana region, water shortages and contaminated water sources contributed to a cholera outbreak between August and October 2009; and in the northeast, dysentery cases among the people of the Laisamis area.
In sum, the planners of Konza City could well learn from  other cities across the world, and contrast the urban population growth (and resultant policies) of the "organic " cities like Los Angeles or Johannesburg with those of planned cities like Shenzhen, Brasília and Abu Dhabi. As Africa and Asia's urban populations are expected to increase 271 percent (from 1.7 billion to 4.6 billion) between 2000 and 2050, it will become increasingly important to build sustainable cities with access to safe water sources.
Furthermore, as urban population growth continues in this current economic climate, it will be necessary to implement policies that prevent and address the price-induced food insecurity to which urban dwellers are susceptible.
Tags: Abu Dhbi, Africa, Brasilia, Johannesburg, Kenya, Konza City, Los Angeles, Planned City, urban development, urban planning