The rise of the trolls and bots: politics, propaganda and the Internet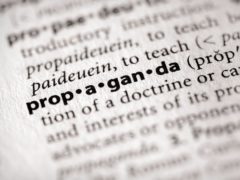 Since social media has heralded the era of post-factual truth, digital propaganda climbed onto the stage. And the bad news is – it's here to stay, so we better learn how to expose it.
Since always politics and propaganda are walking side by side. Propaganda used  as tool to convey the respective messages, lulling the followers into believes of being on the "right side" and distorting reality after one's own agenda. But in times of the internet and social media propaganda has become the ugly flatulante jinni being let out of the bottle. Propaganda is no longer a tool of the top brass. Digital propaganda has become the vehicle to transport any such featherbrained opinion or believes. The power lies in the hands of those who know well how to use social media and digital communication for their purposes. Daesh or ISIS is in step with the zeitgeist of young angry or distressed adolescents feeling unheard or isolated, creating twitter hashtags that are quickly picked up by their followers and spread their dangerous propaganda in a whirlwind, then counteracted by other hashtags like #ISISmediablackout to refuse sharing any of ISIS' videos. ISIS was also among the first to employ an app that spams out tweets on behalf of the terrorist organisation. "Once you sign up, the app will post tweets to your account—the content of which is decided by someone in ISIS's social-media operation. The tweets include links, hashtags, and images, and the same content is also tweeted by the accounts of everyone else who has signed up for the app, spaced out to avoid triggering Twitter's spam-detection algorithms." the Atlantic reported already two years ago.
The rise of the trolls
Governments are stepping up, too. Russia created its famous troll-factories in St.Petersburg, with which they flood any commentary sections with pro-russian and anti-western propaganda. The Trolls of Olgino, their Internet slang name, create fake accounts on major discussion boards and twist facts, distort images and fake videos and infiltrate the opinion pages and social media with hateful comments. In a different post I have described how to debunk fake news. Already in February 2012 the Guardian reported on Russia's deceitful and opaque efforts to manipulate the media:  "A pro-Kremlin group runs a network of internet trolls, seeks to buy flattering coverage of Vladimir Putin and hatches plans to discredit opposition activists and media, according to private emails allegedly hacked by a group calling itself the Russian arm of Anonymous."
Russia's media war leads to sometimes unwillingly comical outbreaks. The staff of the Russian Embassy in the UK tweeted out an image of a strong Russian bear mocking Europeans as gay pigs.
This tweet caused quite some commotion and Pro-Putin and his opponents fought over a shitstorm.
Russia has long mastered the art of propaganda, too, thanks to the Russian Avant Garde and the Constructivists.
Source: Alexandr Rodchenko, (The Advertisement Poster for the Lengiz Publishing House), (1924) 
But back to the serious business of dirty propaganda war. Cybercrimes and hacks into US mail-servers, the hack into the German Telekom routers over the last November weekend, and the US election has revealed a form of propaganda that is new to many.
First evidences emerge that electronic voting machines in the US had possibly been manipulated. Jil Stein, the green-party candidate in the US, writes: "reported hacks into voter and party databases and individual email accounts are causing many American to wonder if our election results are reliable", and crowdfunded a campaign to recount votes in three states.   
Rather fact than rumor is to many that Russia, too, has supported Trump's election campaign with both money and his web brigades.
Populists movements in Europe are thriving thanks to money that is being traced back to Russia. In Germany Angela Merkel is afraid of the election in 2017 with the German party AfD (Acronym for Alternative for Deutschland) seeing close relations to Russia and the announcement of rightwing medium Breitbart  to open a German office and thus, supporting the AfD. Thanks to a research paper by Alina Polyakova, deputy director of the Think Tank Dinu Patriciu Eurasia Center at the Atlantic Council, the relationship between Europe's far-right parties and Putinism is exposed. She writes: "Investing both financial and ideological resources in parties on the extremes of the political spectrum (both right and left) is a frequently used strategy in the Kremlin's toolkit of influence." The OCCRP (Acronym for the Organised Crime Corruption Reporting Project) has traced back how Russia laundered illegal money in Moldova for these and other purposes.

The Age of Post-Truth Politics
The real danger however lies in the media illiteracy. In times where a growing number of people receive their news only through social media people create their own echo-chambers. This allows fake news to spread quickly through social networks. The US election proved the last example of that. Mark Zuckerberg is currently under attack: Facebook's algorithm has helped creating these echo chambers, leading to similar stories on people's newsfeed and thus, creating a unisono voice without pluralistic debates or other opinions. This graphic illustrates the respective filter bubbles of different political views in the US election, if you are leaning towards the democratic party, your newsfeed on Facebook will only contain similar posts.
German journalist Andrej Reisin underwent an experiment on himself to dive into a new filter bubble. For the TV Channel NDR he described how he created a false Facebook profile, liked some of the populist and pertinent pages and could observe how in a blink his timeline filled with hoaxes and paranoia. "It was creepy how my brain suddenly reacted to this nonsense and started to question what official media tells you." The German project hoaxmap tries to debunk some of the false information spreading on social media, though it preaches to the converted.
How the army of trolls and the digital foot soldiers help governments all over the world manipulating social media for their own ends is described by Leo Benedictus. Everywhere from Turkey to Israel, from Russia to China and the US "the digital soldiers smear opponents, spread disinformation and post fake texts for "pocket money".", he writes in the Guardian. Multiplied by social bots, those fake news make it to the front pages of sometimes even established media.
Sockpuppets and social bots: robots in disguise
What the troll armies are to Russia or the digital soldiers to the ISIS are social bots to twitter and Facebook. This software application runs automated tasks over the Internet and at a much higher rate than would be possible for a human alone. Originally developed for hybrid wars by the American Ministry of Defense, bots retweet and disseminate content in an instant, creating a vortex of false information to manipulate opinions.
Social bots are working their way through even established parties. The sad news is that both US parties, democrats and republicans used the software to increase their followers. Even German parties have flirted with using social bots, though have rejected them altogether after the US election. However, Merkel is still afraid social bots may manipulate the German election. "Most likely Social bots also helped creating Brexit" says Dirk Helbig Social Scientist and author of "das Digital-Manifest" at Spektrum.de." It is yet very difficult to reveal the identity of those who exactly installed them. The University of Washington discovered, that a 30% of all tweets emitted during the Brexit referendum where sent from only one percent of users with a very high frequency, indicating possible manipulation, as the German blog detektor.fm pointed out. Simple sockpuppets as bots are called, tweet up to 100.000 times in a second when working alone. If working in compound, they are able to analyse tweets on a semantic level and design an answer according to the predetermined propagandistic set of guidelines and then distribute the newly generated message as quick as possible.
"On the internet, all ideas appear equal, even when they're lies." writes Issie Lapowsky at WIRED one day before the US election. "The internet has made it easier to spread information and knowledge, it's made it just as easy to undermine the truth." She sees a reason in the splintering of the media, leading to innumerable publications on the internet, that call "another person's fact their fiction."
The loss of trust in media from people chanting "Luegenpresse" not only leads to subsequently adopting other ways of acquiring information or false information, since "elitist' newsrooms are said to have been ignoring whatever they deem 'politically incorrect', writes Stephan Russ Mohl from the European Journalism Observatory, "the Journalists are no longer the gatekeepers of a public discourse!" He doubts that "all attempts by fact checking websites, or clarifications by the 'serious' media, to counter the disinformation flood are unhelpful, as they are unable to reach out of their own social media filter bubbles."
This is a Brave New World we live in and it seems politicians, decision makers and journalists are not fully prepared for this. It is now more important than ever to teach media literacy, invest in a broad philanthropic education and for us to engage into a public discourse to prevent that populistic movements gain even more momentum and undermine democratic societies and humanistic values.
Tags: bots, digital propaganda, fake news, politics, Propaganda, social bots, trolls