The Silence of the Digital Sheep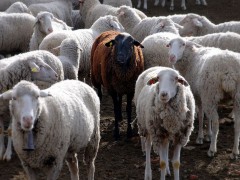 Pakistan is a country that has lagged behind the developed world in information and technology for as long as we Pakistanis can remember. Yes, we've even lagged behind the United States, which has some of the slowest internet connections in the entire 'Western World' and still sports Dial-Up internet – something even we Pakistanis look down on. Yet Pakistani is quickly becoming a very active nation in social media – after all, we are a lazy people and this is perhaps the easiest way to register protest and hold conversations.
Consequently, while street protests tend to take a back seat in Pakistan, what with people being too inactive to actually take to the streets even for their own basic human rights, protests over Facebook and Twitter – where it is used – are widespread. Pick any sample of a hundred Pakistani Facebook users and you're bound to find over 75 with subscriptions to pages endorsing some social cause. Not only is social media one of the biggest news outlets for today's generation of Pakistanis, it's also an alternative medium for those who find themselves disillusioned with television news channels – which are themselves some of the biggest movers in Pakistan. And even though the authenticity of Facebook as a news outlet is itself debatable, that is not the issue of the present blog – which aims to give an  insight into the Pakistani mindset.
Given the increasing role information technology is playing in the lives of Pakistan's people, its implications need to be understood too. As recently as 2010, Pakistan's government felt its foundations shake as the WikiLeaks revelations on the country's top executives and office holders, duely embellished by local media, were taken up by almost all news channels. Similarly, this year and last year, all it took to bring the government to its knees were a few email exchanges between Pakistan's then Ambassador to the US and Mansoor Ijaz, a dubious American business man.
Yet, despite these tremors in Pakistan's political and official circles caused by the viral spread of embellished 'news' – embellishment which the Pakistani masses are fully aware of –  such news is taken up enthusiastically by all and sundry – sometimes even by the affected party itself. It is here that interesting nuances of the Pakistani mind come to the fore. Information tunnelled to us through modern technology does not really have an impact on the "man in the street".  Instead, it always affects only the government, and the occasional 'real' celebrity – for with a couple of exceptions, all Pakistani celebrities are either politicians, or talkshow anchors. Despite being completely untouched by such revelations, Pakistanis take an overwhelming interest in them – their interest in everything that does not pertain to them does not allow them to do otherwise!
So far, a few trends have come to the fore. Pakistanis prefer social media to physical social interactions where ever possible. Pakistan's systems of governance are often given thorough shakedowns from whatever the digital information machine feeds the media. And such shakedowns almost never have anything of substance that would mean anything to an average Pakistani. It would seem therefore that Pakistanis have an inexplicable interest in all things that have largely nothing to do with them. And to cap it all we can even go so far as to say that nothing we do on the information highway is of consequence to anyone else, outside of our own selves of course.
All of this makes for a very dangerous set of circumstances for the country. Not only does it mean that the slightest of rumors on the internet – which the Pakistani print and television media are always quick to pounce on – can set the government wobbling. It also means that the masses have a desperate need to take an interest in it. To compound these problems, despite showing an obsessive need to stay informed and feel interested, these masses almost never take to the streets for issues that affect them. They might take to the streets for trivial issues, but they will not take to them with equal enthusiasm for basic rights like food, freedom of speech and education.
This boils down to a Pakistan that is perennially in the grip of uncertainty, and to a Pakistan that is easily influenced by what foreign outlets feed its media. It is precisely factors like these which fuel Pakistan's instability which then affects the region, to the benefit or chagrin of its neighbours – depending which neighbour you are. The Taliban, for instance, prefer our state of instability. Iran, affected by the same wave of terrorism as we are, sympathises. What the Indian government and the official Afghan government make of it is a knotty issue that ranges far beyond the scope of this modest blog.
Freedom of speech is good, it's the most altruistic of terms. By that token, the medium in which it takes place should also be held sacred. However, Pakistanis need a jolt to wake up to reality. We need to understand that information and news transmission over the internet isn't very different from its transmission over other media before we blindly rush to endorse it.
Tags: bbc, CNN, email, fox news, internet, mainstream media, pakistan, sky news, social media