The world of diplomas has changed into a world of go-getters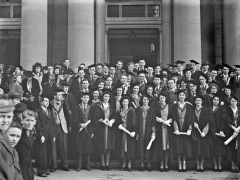 Once upon a time there were diplomas. They used to certify what a young person was good at, and many employers hired people on the sole strength of that piece of paper. But there was never any actual proof of what young graduates could really do. If the university gave someone a degree, it was taken for granted that that person had all the qualities needed to leave the education system and enter the field of employment, whatever that employment might be. But there then came a time when a diploma was not sufficient anymore, and no matter how many of them you might have, they still couldn't guarantee your finding a job.
In 2004, when I went to university, I was part of the first generation for whom sitting exams and getting good grades was not enough to get you there. The system had changed and I was among the first who, instead of committing information I had memorized to paper, had to write essays on given topics and face my future teachers and their questions in interviews. My university had decided to change the admissions system because in previous years the students with top marks in the entrance exams proved to be the weakest of them all with no personal opinions, and no abilities to analyze events or adapt to new situations that required a fast intellect and rapid decision-making. In this new system that favored me a lot, I became a student at the Faculty of Political Science of the University of Bucharest. It was there that I realized that the world of diplomas was crashing down and a new era was about to be born: the era of go-getters.
But what can show our abilities if diplomas can't? I tended to believe that the answer was internships. Internships start to connect the world of education with the employment market. Being inside a company and doing the same hard work as all the other employees brings a young person more recognition for what they know and what they can do than any diploma. The best are eventually hired while the rest continue to battle in search of a job after graduation. Plus the fact that this is tough competition, where there are few who can mentor us, because our parents' generation didn't have to ask what they'd do after graduating: in communism, the system took care of everything: after finishing university, a job was guaranteed.
It was easier for our parents, at least for those of our parents who came from Eastern Europe which is where I now live. They would graduate and the state would automatically give them a job, as the economy was state-owned and centrally planned, and everyone had to participate in the creation of the socialist utopia. But communism fell and with democracy came freedom. Being free is more than doing just what you want; it's about choosing a path, and being personally responsible for your sucesses as well as your failures. It's not easy, but maybe this is what the present crisis of youth unemployment is trying to teach us: that being smart and working hard is not enough anymore. A bunch of other qualities which are sometimes difficult to name or explain, but which can easily make you stand out and help you shape your career, is what employers are looking  for nowadays.
I hear a lot of arguments trying to explain why there are not enough jobs around today: there is no linkage between the education system and the employment market;  old people don't allow young people to replace them on the labour market; people work longer so there aren't enough jobs for young people; fresh graduates don't want to stay in badly paid work; young people demand a lot, but don't have the experience or the skills to justify their demands, so screw them,  – and so on and so forth. I don't believe in any of these arguments in particular so I've tried to go a bit further in what I've written: in other words, what if we actually need to embrace a shift of mindset, one where we realise that in order for something new to emerge, everything else has to fall and turn into chaos? Maybe the perspective is not such a rosy one, and maybe we're now feeling confused because we aren't able to grasp all the uncertainties it brings with it. But at the same time a real good shakedown is perhaps what we need to reinvent ourselves and the way we relate to our lifestyles.
Tags: career, Central and Eastern Europe, communism, education, internships, labour market, romania, skills, training, unemployment, youth unemployment