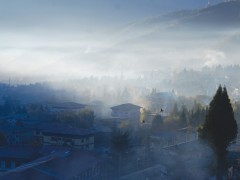 Last year, in Thimphu the capital of Bhutan, there was a pedestrian route that led from the center of the city's  busy main street Norzin Lam up to the Chorten Lam thoroughfare. I would walk this path daily, though there was some risk involved: just after Thai Park, the sidewalk ended in an abrupt precipice, narrow shoulders left barely enough room to dodge speeding cars, and I had to cross over a dusty volleyball court populated by a pack of barking dogs. The final stretch was up a makeshift ladder. All this in a distance of about three city blocks in the very center of this capital city.
I figured that eventually city planners would replace the ladder with a ramp, and complete the sidewalk, making it more pedestrian-friendly. Yet recently I returned to Thimphu and found that not only had the route not been improved but that it was now blocked off by a new building. Like much of Thimphu, the only way to get from A to B is via XYZ and then down and around and back up again. The cars follow these zig-zagging routes as well. The streets run in one direction with no thruways and confusing roundabouts that increase random traffic by untold degrees.
The congestion will only worsen as the city continues growing at an uncomfortable rate. Demographic studies predict that the population of Thimphu will grow from its present size of 90,000 to 162,327 people by the year 2027. The city dump is filling, air quality is suffering, building projects abound, crime and drug use are up and cars now stand idle in daily traffic jams. The total number of vehicles recorded in Thimphu as of June 2011 was 27,182, up by 2,952 since 2010, and sometimes it seems like they have no place to go. I often wonder if so many people would still be in their cars if pedestrians were given more options.
According to an article in Kuensel, cars are being imported into the country at a rate of about 800 per month. Given the existing limits of infrastructure and planning, the article postulates that by the year 2020, it could take an entire hour to drive from the centre of Thimphu to the end of the expressway in Babesa, a distance of a mere six km. Municipal engineers blame haphazard development for many of these issues.
Bhutan's Department of Urban Development and Engineering Services at the Ministry of Human Works and Settlement does not mince words on its web site:
The city is already facing housing shortages, traffic congestion, air pollution and chaotic building patterns. The forests, which preside over the city, are being encroached upon. Orchards in the ecologically fragile areas are being irrationally sub-divided, without reference to the carrying capacity of the land. Private and public agencies, as well as individuals, are going about "city building" in a disjointed and ad hoc manner. This results in "spotty growth," wherein fragmented pockets of development require services and infrastructure. These dispersed pockets are not large enough to support any given city service system, and are too far apart to allow efficient linkage with the city level services systems."
There is clear evidence of this spotty growth. The once fertile fields between Thimphu and Babesa are now sprouting endless building projects leaving almost no greenspace. In such a mountainous country, wide fertile valleys provide rare opportunities for food production, ensuring food security. Yet, with the rate of rural urban migration one of the highest in Asia, Bhutan's building craze is quickly eating up this land. There are about 4,838 buildings in Thimphu, out of which 453 were constructed after 2006. Changjiji, a housing colony near the main highway, is Thimphu's underbelly–an overcrowded concrete jungle where youth gangs, violence and theft are rampant.
Lama Shenphen Zangpo, a Welsh-born Buddhist monk who ovesees the Deer Park center in Thimphu is working tirelessly to provide alternatives for the youth of Changjiji. He says that creating parks, children's play areas and prayer wheels for the elderly allows people young and old to interact, which in turn allows bonds to be formed between the different age groups in the community.
Others like Dzongsar Khyentse Rinpoche, one of Bhutan's most respected Buddhist lamas, recently gave a talk on BBS television praising the designers of New York City for imaging the future–building streets wide enough for four lanes of traffic during an age of carts and horses, and dedicating 843 acres (3.41 km2) of city-owned land to create what is now New York's heart and soul: Central Park. Between 1821 and 1855, New York City nearly quadrupled in population. As the city expanded, influential New Yorkers began to lobby for a designated greenspace and eventually Central Park was opened in 1857.
The core of Thimpu city could use some such forethought. There is talk of turning Norzin Lam into a pedestrian zone, much like Gangtok's MG Marg. This would be an interesting step. But the element of public lobbying must be there and the Bhutanese, as citizens of the world's youngest democracy, still haven't  exercised their democratic muscle much. The people have to want a greener Thimphu and be willing to make changes, especially the people who zoom around in their expensive new sports utility vehicles. Judging from surprising number of these vehicles clogging the streets of Thimphu, it might be a long roundabout journey.