This is Not What We Paid For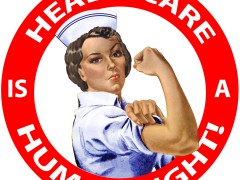 In spite of the recent downturn in the economy, Hungary is still considered a welfare state. Political statements echo this view, claiming that healthcare is for free. The moves by the former government, which tried to implement a "visit fee" of one Euro to help finance healthcare, are often criticized, condemned, and compared unfavorably to supposed positive developments in today's completely free healthcare system. Yet if we take a closer look, it becomes obvious that healthcare in Hungary is not in fact as free as such views seem to suggest.
In a popular Hungarian folk tale, a clever peasant outwits his lord three times to take revenge for the indignities he and his people had to suffer. In 21st century reality, the Hungarian state "beats" its people by charging them with three times the price of "free" healthcare.
Firstly, people are obliged to pay a healthcare contribution in the form of a tax based on individual incomes. The ratio of this contribution is usually 27% of the given type of income. Depending on the source of the income, it can be paid by the employee (in most cases of employment) and/or by the individual. In return for this contribution, everyone can expect a "free" healthcare system with insurance. Those who do not have an income – and are not automatically entitled to use the healthcare system on the basis of social solidarity (e.g. students, pensioners, mothers on maternity grant) – such as unemployed people, have to pay a given amount of money (less than one Euro per day) as a healthcare service contribution on a monthly basis. Those who are obliged  to contribute but refuse to, have to pay the full costs of medical services.
In spite of the theory of a taxation-based "free" healthcare system, many additional costs still occur. One of them is time. Waiting lists have been generally long over the past decade, but in the last two years they have perceptibly become even longer. In the third quarter of 2012, 127, 000 people signed onto waiting lists, while a mere 53, 000 patients got the service they had been waiting for. Those who can allow themselves to replace expenditure of time with money can turn to private consultations. According to the statistics of the Szinapszis Kft, 85% of adults under 35 years of age have already paid for private consultations, and 80% of the 36-45 age group would willingly pay for MR and CT medical examinations if they could shorten waiting time by so doing. Young, well-paid and higher-educated people in particular opt for payment in order to escape the waiting lists, but the longer the predicted waiting time, the more people choose private consultations, saving time with money.
However, even those who have no other choice but to be "patient" and stand in line for "free" healthcare services cannot escape paying yet again for services for which they have actually long paid for. This happens in the form of gratuities, a form of payment that is almost unknown in many Western countries. The role of gratuities is now a contentious subject of debate: are they a form of corruption or a cultural feature embedded in Hungarian society? Should they be rejected or legalised and officially sanctioned? While the debate continues in the political arena, the floors of hospitals are full of people with envelopes stuffed with money to reward the efforts of the doctors and nurses in a discreet and untraceable way.
On top of this comes the fact that Hungarian doctors actually earn very little (475-1061 Euro), and are the third worst paid doctors in the EU after doctors in Bulgaria and Romania. This fact, in conjunction with freedom of movement in the EU, is leading to an exodus of doctors and nurses to countries where they are better paid – even without claiming gratuities. It is also revealing that private consultations are often conducted by the same doctors who keep long waiting lists in their official hours – in order to compensate for their low wages.
All in all, the so-called "free" healthcare system of Hungary is not only anything but free, but, underfinanced, overburdened and debilitated by the exodus of skilled personal, is declining rapidly at a rate that now seems unstoppable – even if the "welfare" state inflicts the price of healthcare three times on its people.
Tags: Central and Eastern Europe, Europe, Health, Healthcare, Hungary, medical services, welfare state