Town planning for healthy communities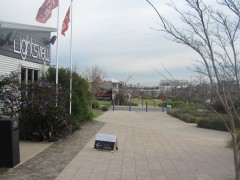 As a writer for Future Challenges, I have a long-term interest in building sustainable, inclusive and healthy communities. Several great initiatives in Australia are helping to achieve this vision. Earlier I mentioned the project Healthy Spaces & Places in a post for "Death Threat" and I would like to expand more on this initiative to highlight how it works on levels to address urban planning for the future as well.  It is known that the way cities and neighbourhoods are designed affects how easy it is for people to walk, ride or use public transport, and to interact with others:  all factors that contribute to a sense of community and lifelong health and wellbeing.
In 2008, the government's National Preventative Health Taskforce outlined a need for urgent action in its Technical Report No 1, Obesity in Australia. Included in the report is research into the relationship between obesity and community design. It suggests that time spent travelling by car increases the chances of developing obesity; while walking, and living in a mixed land use development reduces the risk and promotes better health. According to the report, local governments and developers should plan for more public transport, cycle paths and footpaths, increased urban density, and protected open spaces, so that people can readily lead more active, healthy lives.
Healthy Spaces and Places was developed in collaboration with the Australian Local Government Association, the National Heart Foundation of Australia and the Planning Institute of Australia. It supports and complements planning and design initiatives throughout Australia, including practical information from experts in health, planning, urban design, community safety and transport planning. The key design principles of Healthy Spaces and Places include active transport, connectivity, mixed density, mixed land use, social inclusion, and supporting infrastructure. Not too far from where I live, a new suburban development called Lightsview is one example of how Healthy Spaces and Places design principles have been put into practice. Key features of the development include parks with community facilities within walking distance of all residents, improved pedestrian access and cycle routes, public spaces and streets designed to consider community health and safety, and opportunities for elderly residents to live in independent housing or in high care facilities to allow residents to "age in place" and remain close to their families and friends. While the implementation of such measures may prove more costly initially, the long-term benefits are priceless: above all, a healthier and happier community.  And the benefits extend beyond mere physical activity: by providing quality community facilities, planners can also facilitate a sense of community, thereby improving mental health and community resilience.
Health and wellbeing is a complex issue and town planning principles must only form one aspect of a multifaceted approach to addressing these issues. Nonetheless, Healthy Places and Spaces demonstrates that the way we design our cities can certainly have an impact on the quality of our physical and emotional health as well as our sense of community. In his article "The New City," Steven Watson concludes by suggesting "the cities with the best people win." I would argue that the cities with the healthiest and happiest people win.
Tags: community development, healthy communities, town planning, urban development