Transformative Pedagogy in Bhutan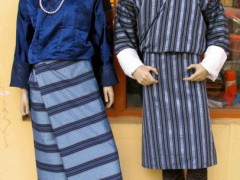 Taking Bhutan as an example, the UN General Assembly recently invited countries "to pursue the elaboration of additional measures that better capture the importance of the pursuit of happiness and well-being in development with a view to guiding their public policies." The resolution said "the pursuit of happiness is a fundamental human goal" and embodies the spirit of the globally agreed targets known as the Millennium Development Goals (MDGs).
In order to turn these high-minded ideals into practical outcomes, an international community of educators came to Bhutan's capital city Thimphu in 2009 for the Educating for GNH Conference. The group addressed the need for an education system that is uniquely Bhutanese and reflects GNH principles. Building on the momentum of that conference, the Ministry of Education began its Green Schools for Green Bhutan program and instituted mandatory mindfulness lessons in every school. But has Bhutan really established a sustainable system  for educating the next generation to uphold the ideals of GNH?
It's been clear for many years that Bhutan's education system, based as it is on high-stakes exams, is not adequately preparing enough Bhutanese students for the complexities of rapid modernization. With one of the highest rural-urban migrations rates in Asia, Bhutan's farms are emptying and the very concepts of "livelihood" and "education" are changing. In the 17-24 age group, unemployment hovers around 6% There are jobs to be had if Bhutanese youth are willing to work as wage laborers (which they often are not ) or if they are given more encouragement and support to think creatively and develop their own employment opportunities.
In Bhutan, however, the primary aim of the average student is to do well in the BCSE exam (The Bhutan Civil Service Exam of the Royal Civil Service Commission ). High scores ensure desk jobs and a clear career path with security and perks, though not necessarily stimulation or satisfaction.
For those who do not do well in the exams, or those who don't thrive in office environments, there are few alternatives in terms of vocational training and empowerment. Those who do poorly, however, do qualify for teaching jobs. This noble profession is considered a last resort for most. Teachers are part of the Royal Civil Service but because there are no ranks among them, good teachers and good thinkers are promoted out of the classroom into administration. And so the cycle continues.
Lopon Lhundup Dukpa, Director of Teacher Education and Development at the Royal Education Council (REC), has conducted research throughout Bhutan to determine why there is such a lack of enthusiasm about joining the teaching profession. The REC is a think tank for Bhutan's Ministry of Education charged with exploring innovative and progressive methods and practices to improve the education system in Bhutan. These teachers are programmed to perpetuate a system that was imported from India, which in turn was set up by British colonists. Though Bhutan is trumpeting the concept of Gross National Happiness from the podium of the UN,  its education system is still very much involved in training the minds and hearts of its youth for a future centered around economic development, not sustainability or happiness. But, as any nation, whether industrialized or not, might find, it is difficult to break the cycle and create a new education paradigm.
The Finns have famously done a great job in creating a paradigm that is succeeding on many fronts, and they are doing what they can to share what they have done. In March, 2012, Timothy Bedford and Rosalind Cooper, teachers from Ouloo, Finland came to Bhutan to lead a workshop, "Transformative Pedagogy for Gross National Happiness," on the invitation of the REC. Participants were teachers from state schools in Thimphu and Paro who have undergone special REC' "master teacher" training and leadership training programs. The workshop opened with a question posted by Lopon Dukpa: "How is the current educational system contributing to the devaluing of labor and the development of the country?"
Bedford and Cooper's workshop, part of the South-North Global School Partnership for Sustainability, provided in-service training for a selection of teachers from the REC's 15 Beacon Schools in Paro and Thimphu which aimed to equip teachers with skills to help "transform what needs to be changed in society and keep that which works." Because the Kingdom of Bhutan is a country like no other—a benevolent, carbon-neutral kingdom with profound traditions of ancient wisdom —it is fertile ground for such an endeavor. Countries around the world are looking to this small Himalayan country, and its policy of "gross national happiness" (GNH) instead of gross domestic product (GDP), as a model of sustainable development.
Tags: education, gross national happiness, transformative education, transformative pedagogy