Uganda Celebrates Golden Independence; New Challenges Ahead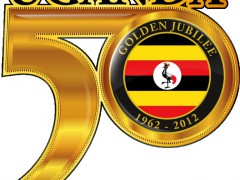 On 9th October Uganda marked 50 years of independence with pomp, colour, showcasing the country's air power and a choreographic presentation of how far the country has moved and projection of the future.
Becoming an independent state in 1962, Uganda has since had 9 heads of state with pioneer executive prime minister Milton Obote whom the British colonialists handed the instruments of power.
Uganda's post-independence journey has been a mixed bag. First when Obote took over power, he abrogated the 1962 constitution in 1966 setting the country on a collusion path. Perhaps the turning point in Uganda's history was the ascendance of an illiterate soldier Idi Amin to presidency. Amin's rule was characterized by state-inspired violence against innocent Ugandans.
Fast forward, Uganda's President Yoweri Museveni, who got state power through the barrel of the gun in 1986, was this time the main golden jubilee celebrant. President Museveni arrived for celebrations aboard a brand new Mercedes Benz limousine which cost taxpayers a whopping Uganda Shillings 3 billion (US$1 million at exchange rate of $1 to 2400 shillings) yet more than 8 million Ugandans live in abject poverty. These poverty statistics were used by Museveni as he sought a fourth presidential term last year.
To celebrate with Ugandans, were several foreign guests including the Duke of Kent Prince Edward representing the Queen of England, 11 African presidents, and China's Speaker of Parliament among other dignitaries.
This is how the Observer newspaper captured the atmosphere: "A sense of euphoria swept through the Kololo Independence grounds as the Ugandan flag was raised, a re-enactment of October 9, 1962. The man who was privileged to perform that task then, 83 year-old Maj Kenneth Akorimo, was in attendance, nostalgia written all over his face. He said Uganda has achieved many things in the last 50 years singling out the discipline of its military in the last 26 years."
A day after the celebrations Uganda's newspapers, 120 FM radio stations and 12 television stations were screaming with headlines of a successful and colourful independence jubilee celebration. Day before the celebrations the press had been comparing Uganda's independence journey and projecting the country's future.
When Museveni and his wife Janet arrived at, Kololo Independence Grounds which is 4 kilometres from the Kampala City centre, cruising an S500 Mercedes Benz model, partying Ugandans here could only manage joyous ululations perhaps not caring that the first family was enjoying a lavish life while some Ugandans sleep on empty stomachs.
At the end of celebrations, the President and his guests drove away in luxury motorcades, few rich Ugandans drove away in their private cars to continue the party. Majority Ugandans left the Kololo Independence Grounds walking all their way home perhaps pondering on where to get the next meal that evening.
However, not every Ugandan could see reason to celebrate the 50 years of independence. Uganda's opposition politicians boycotted the jubilee arguing that the regime does not respect their freedom of association. As the country's top politicians and civil servants celebrated the 50 years of political independence, millions of Ugandans were struggling to make ends meet. Among these Ugandans was Joseph Senkubuge, a motorcycle taxi driver locally known as bodabodas.
Senkubuge parks his motorcycle taxi next to Kobil fuel station in the Kampala City suburb of Kamwokya. He plies routes across town charging each route a minimum of Shillings 2000 (about US$1) depending on the mileage. The 25 year-old father of three said he could not join the president and his guests to celebrate the 50 years of independence because he first has "to get the daily bread and put food to the table for his children". He says he would have attended the main celebrations if he had a permanent salaried job.
At 50 years of independence Uganda has 49% of its 33 million people below age of 15. Another 48% Ugandans are aged between 16 and 64. Unemployment among university graduates is still high with some studies putting it at 80 percent. Uganda's fluctuating inflation in the last two years has made the already bad situation worse.
When I asked a number of Ugandans if there is reason to celebrate the 50 years of independence the answers were mixed. Some see the glass half empty; others half full.
"In the last 50 years we have achieved the basics in education, health care delivery, infrastructure, electricity, etc. and we have failed in many other things. For example, the roads are very poor, hospitals have very staff. But we should use the last 50 years to reflect on our past and chart the way forward for a Uganda we want in the next 50 years. We should use this time to plan for our children," said the old man.
Whatever the case, Uganda has the reason to celebrate the last 50 years since the country is peaceful, the economy has grown steadily over the last 20 years, and progress made against HIV/AIDS. However,  corruption and oppression of opposition threaten to spoil the jubilee party.  Fixing these challenges should be on Uganda's leaders' mind.
Tags: Idi Amin, Kololo, Milton Obote, Museveni, Uganda, Uganda Independence, Uganda@50, Ugandan, Yoweri Museveni