Uganda's Quest for Peace and Joseph Kony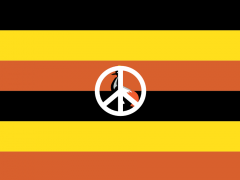 Is peace between individuals and societies possible, or is conflict simply a part of human nature? Does it differ from culture to culture, religion to religion, nation to nation?
All human history is punctuated by conflict and endless struggle for peaceful coexistence. Even before the American Revolution in 1777 to smallest village or tribal conflict say the recent incidents in Kenya's Tana River Delta, human beings have been fighting each other.
Surprisingly the fighters say they want to create peace out of war. This reminds me of the adage: "If you want peace, prepare for war". But does this always work? Is it possible to call for peace where a conflict  has not occurred? Today, in Africa,  there are several ongoing peacekeeping missions in the Sudans, Democratic Republic of Congo and Somalia.
The causes of conflicts in human history are many. But the basic causes of conflict among individuals or societies include search for justice, the desire for freedom from perceived mistreatment, control of resources like minerals as in the case of blood(y) diamonds in Liberia and Sierra Leone, land as in between Ethiopia and Eritrea, oil as in the Gulf War, ethnic supremacy as in the 1994 Rwanda genocide, grazing rights and water among cattle keeping communities.
From the unending conflicts among individuals and societies it is impossible to hope for a longer time without conflict. In effect, it is difficult to have total peace in this world. Having said that being able to minimize the occurrence of conflicts, is an important aspect for to maintain perceived peaceful coexistence of societies.  This can be achieved through ensuring justice for all, fair distribution of resources, and mutual respect.
Take a look at the history of Uganda, the country that is celebrating 50 years of independence from the British colonial rule. Prior to October 9, 1962 Ugandans conflicted with the colonialists over perceived maladministration. Even before the coming of colonialists in 1878, kingdoms within Uganda notably Buganda and Bunyoro fought each over supremacy. The kingdom of Toro colonized another ethnic group called Bakonzo which resulted in wars of liberation in the 1950s.
After independence, especially in late 1970s when dictator Idi Amin took over Uganda's presidency having staged a military coup in 1971, the country was thrown into total anarchy. The terror exercised by President Amin has been an ugly mark in Uganda's history. Even when Amin was toppled in 1979 by a joint military force of Tanzanians and Ugandan exiles, that was not the end of conflict in Uganda.
In 1980, a dispute on the electoral malpractices resulted in a five-year  war between the National Resistance Army (NRA) led by Yoweri Museveni, now current president of Uganda, and then President Milton Obote. Museveni's rebels captured state power in 1986. But a year after the NRA seized state power, people in Northern Uganda where three of Uganda's presidents hailed from felt their rightful administrative position had been snatched and started other wars.
This was because the British colonialists had divided Uganda into the south and the north. The north of Uganda was designed by the British as source of top political administrators and military or armed labour. The south of Uganda was, on the other hand, designed as a food production area and source of lower cadre civil servants.
When this unwritten agreement was overturned in 1986 by Museveni and his rag tag rebel army mainly made up of fellow southerners, there was great resistance from northerners. A number of armed groups emerged from the north who are ethnically different from the Bantu speaking southerners, sprang up to challenge Museveni's hold onto power. But by 1989 most of these rebel groups had been defeated with exception of the Lord's Resistance Army.
Since 1987, the Uganda government has been fighting and struggling with one of the world's notorious rebel groups, the Lord's Resistance Army (LRA) led by Joseph Kony. For over two decades the LRA have wreaked havoc in Northern Uganda killing thousands of unarmed civilians and abducting thousands of children. The rebel group whose top leadership was indicted by the International Criminal Court (ICC) over crimes against humanity has been forcefully conscripting children into its ranks and turning girls as sex slaves.
The LRA have been elusive and the government of Uganda has spent millions of dollars on fighting the rebels in a bid to bring peace to the region. After years of fighting peace talks between Uganda and the LRA were organized in 2006 in Juba but the LRA leader Joseph Kony failed to append his signature to the peace agreement fearing he would the ICC arrest.
Because of the LRA Northern Uganda has been without peace until recently when the rebel group was chased out of Uganda. Having faced fierce military fire, the LRA ran to Garamba National Park in Democratic Republic of Congo (DRC).
In 2008 in search of greater peace for the region, a joint military force from Uganda, South Sudan and DRC supported by the United States of America launched an offensive code-named Operation Lightning Thunder to capture or kill Joseph Kony. The operation only succeeded in pushing the LRA out of Garamba to another thick tropical forest in Central African Republic (CAR).
Before leaving Garamba, the LRA butchered over 1000 Congolese civilians in retaliation for the joint military attack on their base in Garamba. In CAR, the LRA have continued to attack unarmed civilians there leaving several hundreds dead.
Dismayed with the LRA atrocities the US-based charity Invisible Children made a video tagged Kony 2012 seeking world attention to contribute to the arrest of LRA's leader Joseph Kony. The video went viral on the Internet with millions of views accompanied by much praise and less criticism. All this was aimed at bringing peace and justice to the region.
The US Government decided to send some 100 special operations forces to help Uganda's military the Uganda Peoples Defence Forces (UPDF) hunt down Joseph Kony and his men. Just this week, an African Union Force from Uganda, South Sudan, CAR, etc. has taken over the command to capture or kill Kony. These efforts are aimed at creating peace and minimizing occurrence of conflict on the continent.
Uganda is now largely peaceful after flashing out the LRA to neighbouring DRC and CAR. In what he calls ensuring peace prevails in the country President Yoweri Museveni has often defended huge budget allocations to the ministry of Defence and Security at the expense of other social service ministries like health and agriculture, which employs over 70% Ugandans. Recently Museveni told legislators who have since indicated they would block approving the 2012/2013 budget unless more money is allocated the ailing health sector.
Tags: Africa, Democratic Republic of Congo, Joseph Kony, Lords Resistance Army, LRA, National Resistance Army, peace, Uganda, war, Yoweri Museveni