Ukraine at the crossroads of globalization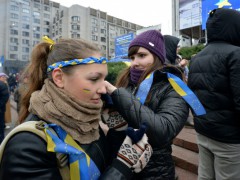 Special thanks to my co-author, Julia Rokicka
Like the traveller in Robert Frost's famous poem The Road Not Taken, Ukraine is now poised between two roads, one pro-European Union and the other pro-Russian. Ever since the collapse of the Soviet Union and its own independence, Ukrainian society has been divided, both historically and politically. The eastern, more pragmatic, part of the country wants to cooperate with Russia, while the western, more progressive, part favors cooperation with the European Union.
Ukraine's geographical position makes it a crucial boundary and natural bridge between Russia and the European Union while its huge territory and population makes it important for both strategic military  and economic reasons. Such reasons make it equally attractive to the EU and Russia who are both assiduously paying court to the country.
As the deadline for the EU/Ukraine Deep and Comprehensive Free Trade Agreement (DCFTA) drew closer this year, Russia decided to block imports of Ukrainian goods which caused up to a 50% slump in production in some sectors of the engineering, metallurgy and food industries. Ukraine's response was to postpone new agreements with the EU and sign a $16 billion dollar deal with Russia which includes a 33 percent cut in the price of gas.
Ukraine will postpone its negotiations with the EU until the Russia-EU summit in January 2014, where trilateral consultations between Russia, Ukraine, and the EU will be held.
Ukrainan President explains Ukraine-Russia relations with body language (Video)
"The proposal to hold trilateral consultations in order to fairly consider trade terms existing between Russia and Ukraine, Ukraine and the EU, Russia and the EU, hiding nothing from each other and without trying to deceive one another, was a very good one", says the Russian Foreign Minister Sergei Lavrov.
Russia claims that it sees Ukraine as a central player in its "Eurasian Union",  an alliance to rival China, the United States and the European Union. Yet, surprisingly, nothing of this union was mentioned in the recent deal to buy Ukraine's newly-issued $3 billion Eurobond, as vpart of a $15 billion bailout of its smaller neighbor. Maybe this issue will be raised at the January Summit?
Yet what does this have to do with globalization? Ukraine is currently 47th on the World Globalization index. It has risen by 8 points in 7 years, and we believe that Ukraine can globalize quicker if it fosters closer ties with the EU. It is also worth considering that many former Soviet satellite countries are globalizing very rapidly and have already achieved a GDP per capita larger than that of Russia – some of them substantially larger.  These countries all have greater independence from Russia and strong ties to all or some of the following: the EU, Asia and the U.S.
This monument, "Russia & Ukraine- brothers in arms, " symbolizes the strong historical ties Ukraine and Russia share. Photo by tgraham, on Flickr, CC BY 2.0.
Nevertheless, Ukraine still has to make a choice. If Ukraine becomes part of the EU, it will have a greater say in world affairs, it will also have 28 European states to trade with freely. Yet if Ukraine decides to take the Russian path, it may build better trade relations with Central Asia and Russia and its gas prices will probably remain low compared to what they were under monopolistic Russia, yet far higher than spot prices in Western Europe.
To an outsider at least, recent events show that Ukrainian politicians are trying to find a middle way to cooperate both with Russia, accepting its loans and lower prices of gas, and with the European Union – renewing talks about the association agreement. This all indicates there are high chances of trilateral consultations between the EU, Ukraine and Russia. One thing is sure: Ukrainians want the best for their country and its citizens. But can they have the cake and eat it? And aren't big power plays a zero sum game?
BBC News – Will Ukraine turn to EU or Russia? (Video)
Hopefully Ukraine will show that this is not necessarily the case and that it can find the ultimate deal between the two powers for its own benefit. All in all, the globalizing aspects of either the EU or the Russian Federation will play out after the January Summit.
Tags: East, Eurasian Union, European Union, geopolitics, globalization, protests, ukraine, West, Yanukovich