Ukraine: is sustainability without machine guns possible?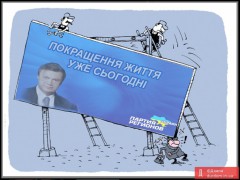 "You see a semi-human being before you, what the state has turned me into," – says Vladimir Vladykin in his shocking Youtube video. "I've had a 180 EUR disability pension since 2005, and in 2010 the ruling party cut it down to 64 EUR. They don't need us alive – just dead! I'm an ex-tank regiment commander. If some turmoil happens, I'll machinegun the lot of them!"
In the video Vladimir is a vigorous man sitting in a wheelchair with both legs amputated at the hip. In 1986 he was a disaster fighter at the Chernobyl nuclear power plant where he lost them. Yet when he says "semi-human" he is refering not only to his disability, but to the state as well for which he is nothing but a useless superfluous burden which brings no profit, just expense. The minimum wage in Ukraine is 117,6 EUR today, so Vladimir's pension is just half of it.
The really bitter irony though comes in his political affiliation: Vladimir is a member and local parliament deputy of the Party of Regions (the ruling party in Ukraine). The party promised rapid economic growth with its pre-election motto "A better life right now!" But none of its supporters thought about where all this manna from heaven would actually come from.
The previous government increased public wages and pensions before the last election, banking on the next IMF tranche. The results of this desire to be nice to the electorate are deplorable: the State Pension Fund has a deficit of about 1% of GDP or 2.18 billion EUR, and there are no reserves to close the gap.
If sustainability is the potential for the long-term maintenance of well being and requires the reconciliation of environmental, social and economic demands, Ukraine needs a serious breakthrough to obtain it. In other words we need some miminum level of sustained growth to even think of sustainaibility. But is it really possible?
As the IMF states, not in this year. After the economic disaster of 2008, when Ukrainian GDP lost almost 17%, we had a slight recovery in 2010-2011, but for the second year in a row growth in our GDP is close to absolute zero. The IMF makes the optimistic forecast of 2,8% growth for 2014, but in my opinion we must make superhuman efforts if we are to reach this aim. Even so, we will not be able to return to pre-2008 growth levels. But how can we get the financial resources for sustainability?
We must look truth straight in the eye and stop fast-talking. Ukraine has 13.4 million pensioners and a tax base of only 14 million working people. Few taxation systems can cater for such a huge number of dependants, so the sustainability of public finances seems impossible at first sight.
But there is a way out: we need to reduce large misappropriations, and even outright theft, from the state budget. Recently opposition MPs asked [UKR] the Procurator-General to check an allegation that businessman Sergey Kurchenko and income and tax minister Olexander Klymenko are involved in fuel smuggling schemes of absolutely fantastic scales of around 1.25 billion EUR a year! This sum is more than 50% of the State Pension Fund deficit. And this is only one example among many.
Meeting all IMF conditions to obtain the next loan tranche is an absolute must, because this loan is the only way we have to repay our external debt and balance our budget deficit. However, one of the IMF demands is that we reduce our enormous budget deficit by increasing domestic gas prices to the market average. Obviously market prices are too high for poor people. Vladimir Vladykin, and the other 16.3% of the Ukrainian population living under the poverty line will be directly affected and thinking about machine guns.