What Have We Learned from International Women's Day?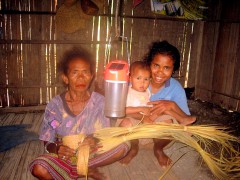 What do Indian air hostesses, James Bond dressed in drag and U.S. Secretary of State Hillary Clinton have in common? Before you get carried away, I'll tell you: International Women's Day, celebrated on the 8th of March.
Last year, more than a hundred countries around world commemorated the 100th anniversary of International Women's Day, an event which first gained popularity in Europe, Africa and Asia [1]. Long out of favor in the U.S. for its association with the Socialist Party—the iteration of the holiday in Germany was once called a "socialist Valentine's Day"—the celebration only gained traction (and an official calendar date) outside of the Soviet Bloc when the United Nations first recognized the festivities on 8 March 1975 [2]. Now the widely observed occasion serves to celebrate the diverse economic, political, and social achievements of women the world over.
In 2011, U.S. Secretary of State Hillary Clinton threw a 4-day party for the occasion and James Bond Daniel Craig dressed in drag in a video with his co-star Dame Judi Dench to raise awareness about domestic violence. (If you were wondering about the air hostesses — Air India arranged for 13 flights in its network to be staffed by all-woman crew). Not to be outdone by the world figures stepping up to the plate, the original patron of the global celebration, the United Nations, through its agency UN Women, pledged to promote equal access to education, training, science and technology, a pathway to decent work for women.
This pledge includes one theme that has gained prominence in modern culture: access to tools (science and technology). Though boiling it down to one idea risks simplifying the plight of women, I believe it is an essential part to recognizing women as individuals capable of taking charge of their own destinies.
Until we are able to make significant progress on major crises, access to tools and technology can have a significant impact on a person's life. Japanese technology company Kopernik makes such tools available through an innovative online marketplace, targeting society's most disadvantaged or, the "Bottom of the Pyramid" [3]. One of their inventions, a solar-powered lamp used in Indonesian villages, has allowed families to reduce or eliminate their dependency on kerosene lamps which are a health and fire-hazard, in addition to being inefficient and expensive to fuel. Such solar-powered lamps save money and allow household members to work at night.
In Kenya, Ms. Ory Okolloh, also known as Kenyan Pundit, used technology in an altogether different way. In response to the violence which broke out after her country's elections in 2007, Okolloh mapped incidents of violence using Google Maps based on eyewitness reports from text messages on a website called Ushahidi — Swahili for "testimony." In Malawi, William Kamkwamba, a young man I had the pleasure of meeting last year at Dartmouth College, made the most of his access to information. Using books from his local library, he built a windmill from scratch to provide energy to his village. When Kamkwamba first used the Internet and millions of hits showed up on his search for windmill, he exclaimed: "Where was this Google all this time?"
As the UN declares the internet a human right, and UN Women places such emphasis on the access to tools and technology, we do have to seriously ask ourselves this question: How many women leaders, engineers, entrepreneurs, teachers, artists are we—and their communities—missing out on because women are not gaining equal access to the same tools and technology?
A momentary lapse in realistic self-awareness is necessary here. It's unclear how science and technology could end tragedies such as the violence and systematic rape in the Democratic Republic of Congo. Social media campaigns such as the one run by the non-profit Invisible Children, were effective in bringing the attention to light, but did not necessarily create coordinated action. The viability of tools such as the internet in creating significant political change depends greatly on political will, among other circumstances, as internet and society scholar Evgeny Morozov hastens to remind us. The women of Tunisia and Egypt may have been "front and centre, in news clips and on Facebook forums, and even in the leadership," according to an Al-Jazeera news article on the Middle East feminist revolution, but a provocative article in the Foreign Policy last week indicates that the fight for equal rights is far, far from over.
There is no silver bullet for development or gender equality, but the potential for technology to impact the lives of women as a tool, as a source of information and as an amplifier was proven in 2011. What will be the lesson we learn this year?
An earlier version of this article was published at the Columbia Political Review.
Tags: Gender rights, internet access, science, Technology, women